Giles Scott secures victory in Weymouth after electrifying medal race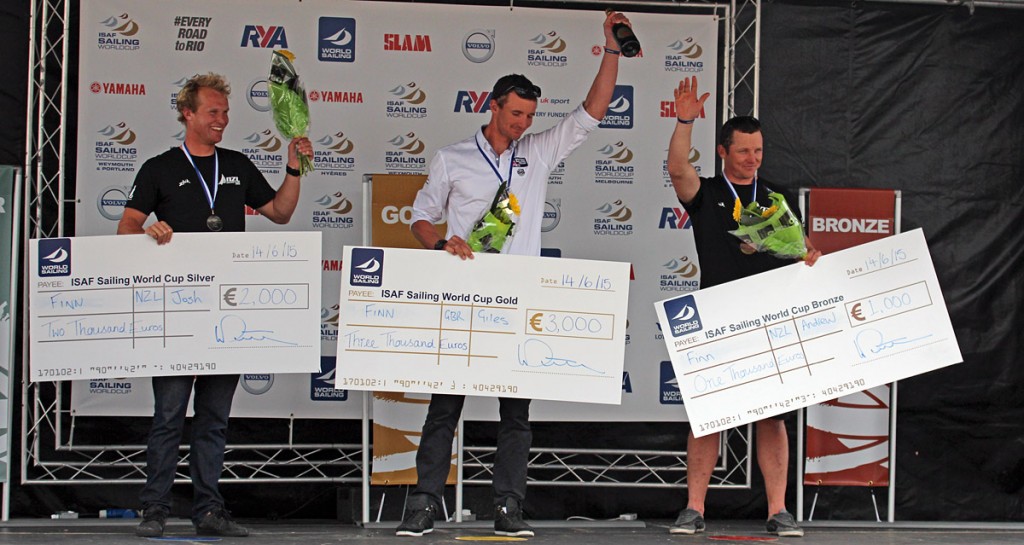 Even though he finished in last place in the medal race, Giles Scott (GBR) did enough to win the Finn gold medal at the ISAF Sailing World Cup Weymouth & Portland in a medal race that had everything. Josh Junior (NZL) just managed to save the silver after being the victim of Scott's attentions while Andrew Murdoch (NZL) also saved the bronze.
The race win went to Jonathan Lobert FRA), just as it did three years ago in the Olympics, but this time there was no bronze medal waiting at the finish line. Jake Lilley (AUS) led round the top mark and held on to second, while Max Salminen (SWE) continued his good form with a third place to end up fourth overall. After a delayed start because the early wind died, it reappeared from the south-west. It was only 5-7 knots but was enough to produce a thrilling conclusion to one of the closest regattas this year.
The race began with Scott taking the offensive to Junior and both boats ended up away from the last and slightly back. Junior had the best of the start but Scott tacked off to the right, found some pressure and was right back in it until getting a penalty for bouncing. Junior kept his slight advantage on the first lap but at the end of the second beat, Scott laid a mark trap, and controlled Junior down the final run. However Junior then pulled a trap on Scott at the final gate and slid through to take ninth. Murdoch crossed in sixth, and just couldn't pass enough boats to snatch the silver away from his teammate.
He said, "The race didn't quite go as well I I would have liked. Points wise it was always a bit of stretch to get Giles."
"I started well off the line, but didn't really do so well up the first beat, so I was on the back foot from there, but then I sailed a reasonable race and managed to maintain the bronze."
On the pre-race tussle between Scott and Junior, "In the starting sequence they started messing around with each other. I thought it was highly likely they would be ninth and tenth, so I was pushing hard to try and win the race and because it was so light there was always a chance that the positions in the race would move around a lot but it actually stayed quite stable and steady."
"A bronze is the best I have done this year especially as I only just jumped into a new boat this week and only sailed it a day before the regatta. So I was still getting to grips with tuning it, so really happy that's going well."
Junior was ecstatic and relieved with his silver medal. Asked if he made hard work of the race he said, "Made it hard work? People were making it hard work for me. I had a really good start against Giles, had him sort of locked out and then the lead changed a few times and Doc got back into it and then I passed Giles just on the last downwind mark and that got me the silver."
"It was a windward-leeward penalty. I managed to gybe inside him just before three lengths and then got a penalty on him and managed to lead round the bottom.
"Giles was keen to take me out. Nothing really learned. He just made life really difficult for me, so I will have to think about a solution to deal with that in the future."
Scott was equally relieved. "I certainly didn't make it easy for myself. I was bit back off the start but managed to get some pressure on the right which brought be right back and I managed to get on top of Josh reasonable well. Then as we split I got yellow flagged which put me on the back foot again. It was very stressful but then to get ahead by the top of the next beat and then put the mark trap in it kind of sealed it for me."
On the pre-race tactics, "It's kind of a weird thing because you can never really fully engage in that situation because both of you have still got to worry about Doc in third. We were both always needing to get to the start line. Just trying to ruffle each other really. In reality we both ended up being a bit back, just I managed to get out to the right where the breeze was."
Scott continues his winning streak but this regatta was about as close as any in the last two years. Does he feel the others are catching up, "The Kiwis were going particularly well this week. With the loss of Friday it's only been a four day regatta. So a lot of the regatta was put on yesterday with three races and they were going particularly well in that breeze. The other thing is that the fleet is quite small so the points are inevitably going to be a bit tighter. But for sure there is till a lot of work to be done and everyone is getting better all the time, as ever."
Results after medal race (medal race result in brackets)
1 GBR 41 Giles Scott 28 (10)
2 NZL 24 Josh Junior 32 (9)
3 NZL 16 Andrew Murdoch 35 (6)
4 SWE 33 Max Salminen 41 (3)
5 FRA 112 Jonathan Lobert 44 (1)
6 AUS 41 Jake Lilley 59 (2)
7 CRO 524 Ivan Kljakovic Gaspic 63 (4)
8 GBR 91 Ben Cornish 64 (8)
9 FIN 218 Tapio Nirkko 67 (5)
10 GBR 11 Edward Wright 67 (7)
Latest Race Reports…
The Finn fleets have a very active racing programme at all levels from Olympic level though to the equally keenly fought Classic fleet. To read the latest regatta reports click the images below.