The solid silver British Finn Association Travellers Trophy is a much sought after prize across the Finn Fleet. The trophy which was first awarded to Vernon Stratton in 1963, records the names of many famous and influential Finn sailors. It is a trophy that takes pride of place on any Finn sailors mantelpiece.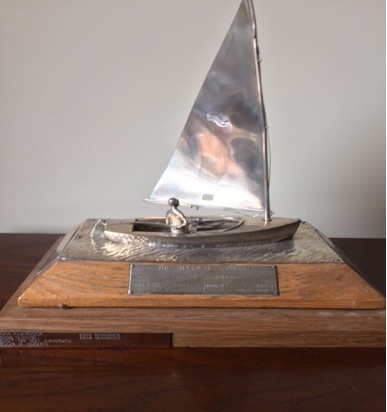 The 2017 BFA Travellers trophy saw 76 sailors compete at one or more events through the year. Six venues hosted seven BFA events to count for the Travellers Trophy, with Mengeham Rythe SC hosting both an open event and the Southern Championships. Sailors counted their best six results which had to include the National Championships at Thorpe Bay.
Under 23 sailor Cameron Tweedle took the title for the second year in succession but the result was not secured until the last race at the last event in Warsash. Cameron was pushed to record a good final result by Jack Arnell and the consistent and tenacious master Cy Grisley, who started the Warsash event right on Cameron's transom in terms of Travellers Trophy points. Both Jack and Cy attended every one of the seven Travellers Series events and their podium finish reflects both their strong results and commitment to the class all year.
Cameron's final position as the top Under 23 sailor plus Jack's as runner qualifies them both for a BFA grant to assist with entry and travel to the 2018 Silver Cup.