Jonathan Lobert (FRA) and Vasilij Zbogar (SLO) secured their first ever Finn Gold Cup medals today after a tough medal race in Takapuna, New Zealand, which closed the 2015 Finn World Championships on the Hauraki Gulf. With Giles Scott (GBR) already the runaway winner, the focus on Sunday was the two minor medals and the fourth 2016 Olympic qualification place.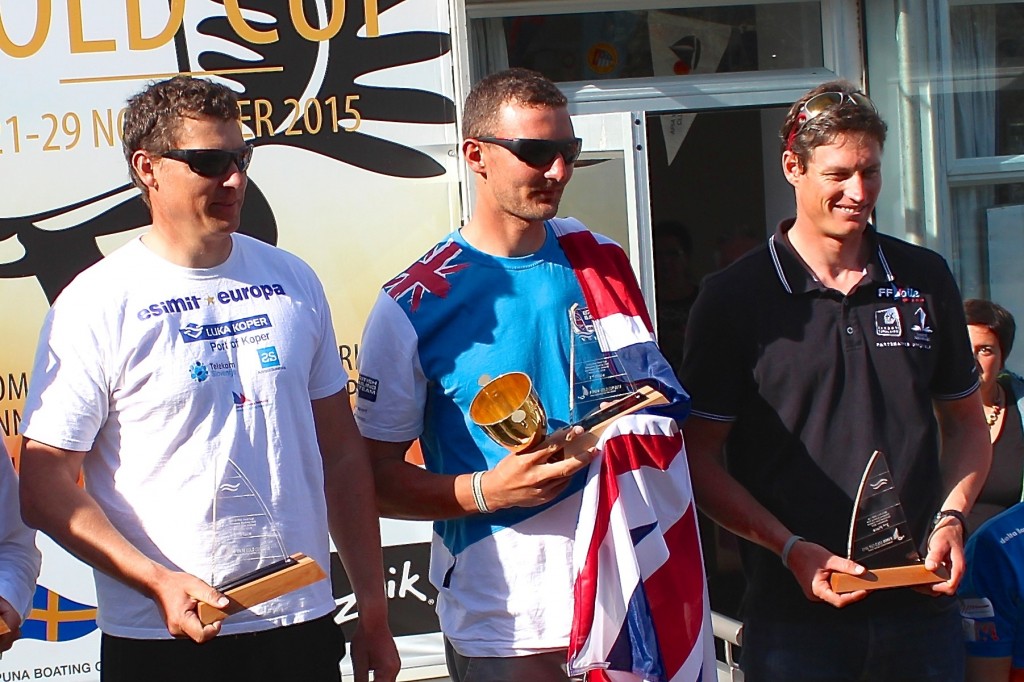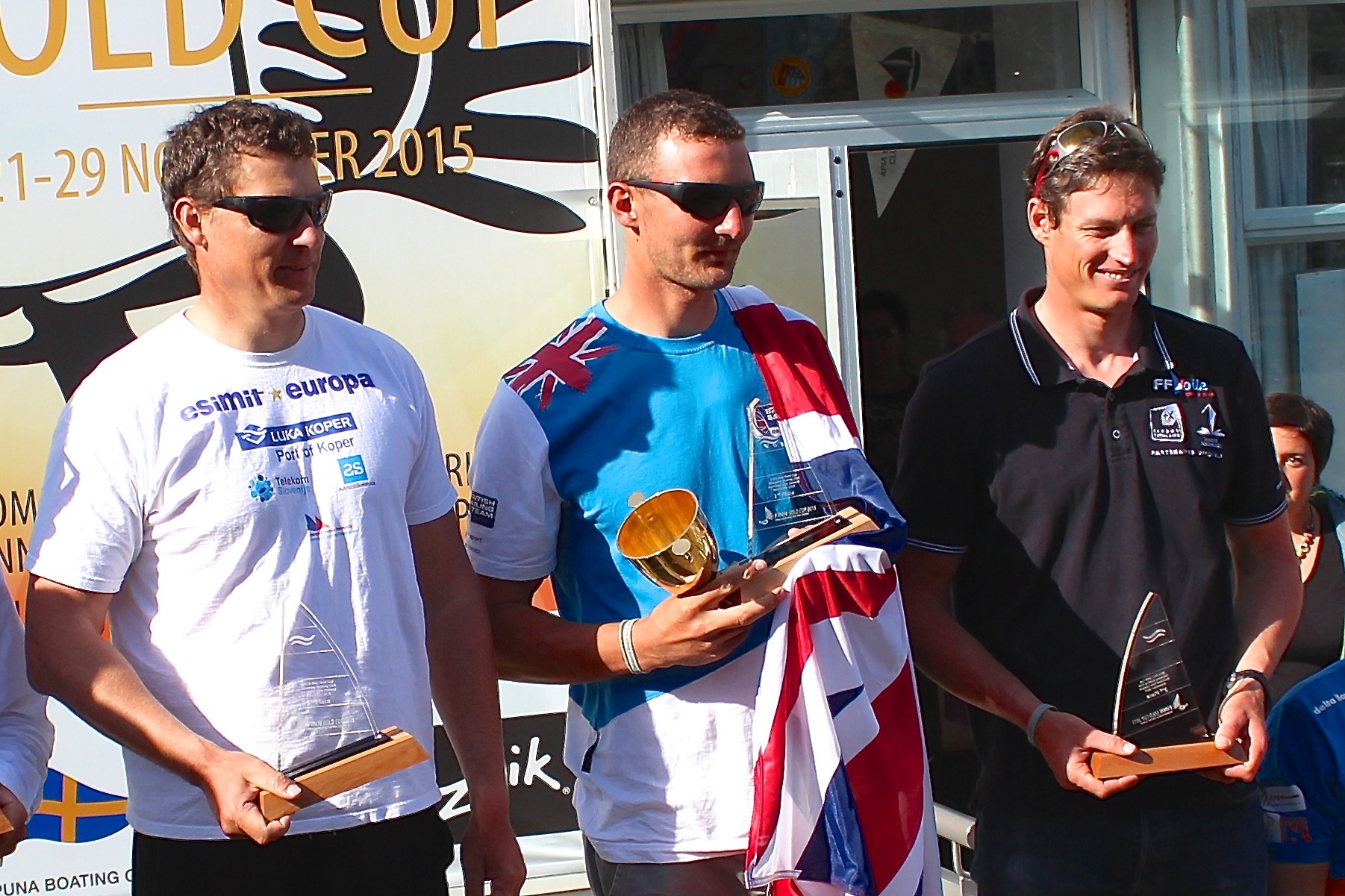 The forecast was the worst of any day so far this week, and at the morning briefing the PRO Ian Clouston emphasised the race committee's policy of "a fair race or no race". The fleet was sent out on time, only to be sent back in an hour later and then back out later for a 14.00 start. However in spite of an 8-10 knot wind in place by then, it was still looking patchy so after a short postponement, the decision was taken to send in the fleet and send out the top 10 for the medal race.
This meant that the fourth place available here for Rio 216 went to Uruguay and Alejandro Foglia (URU). Foglia is a recipient of Finn development programme funding and also a member of the newly established FINNTEAM. "When I came here the objective was to qualify the country. That objective is accomplished, so I am very satisfied. It is very important for Uruguay because I am the fifth athlete to qualify in all sports, so it means a lot for me for all my family, my friends, my coaches and the people who support me in this career."
The wind stabilised for the medal race and was an incredibly close fight, which the fleet crossing the finishing line in an overlapped group that was hard to separate. Tapio Nirkko (FIN) led at the top, but Vasilij Zbogar (SLO) took the lead downwind and led up the second beat. At that point everything changed with the Oscar flag raised for free pumping as the wind went over 10 knots. Ed Wright went more to the right, and when he crossed back was ahead of the fleet, but it still wasn't over with Pieter-Jan Postma (NED) taking the lead in the final moments to cross ahead of Wright and Ioannis Mitakis (GRE).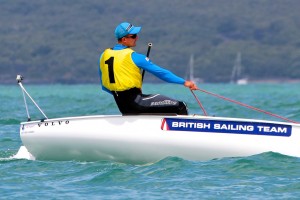 Lobert had managed to hang onto the silver medal with a fourth place finish, which Zbogar stole the bronze from Andrew Murdoch (NZL) on virtue of a better medal race score, both sailors ending up on equal points.
Lobert said, "The medal race is always lot of tension. I had to take care with Murdoch, because I knew he would be good in light winds, and also that Vasilij or Max didn't pass me. My strategy was quite clear. I tried to play the wind and the shifts because I couldn't control all of them. It went quite well because I was on top of the fleet at the first mark and I managed to have a good downwind and then I was just trying to secure the position. In the end I finished second to Giles and I am very pleased with that because I have been three times on the podium before the medal race and I lost it, so this time I'm very happy to secure the silver."
Murdoch was taking the positives from his performance. "The medal race didn't go so well for me and I ended up losing third on countback. It was a tough race with lighter air conditions and with a short course like that it was always going to be tough and the fleet never really spread out at all and crossed the line more or less next to each other. I'm gutted to have missed out being on the podium here but working forward to Rio it's encouraging how I have gone. I'd like to close the gap on Giles, that's for sure."
On the sailing this week, "We've haven't had typical conditions here for this time of year but it's actually been really good sailing and it's been awesome having the Finn fleet down here in new Zealand for a change. I hope everyone enjoyed themselves. I certainly did and it was great to sail in front of the home crowd and for our national fleet the chance to sail against the best in the world."
As well as Uruguay, the other three nations qualifying for Rio next year are Greece, Estonia and The Netherlands.
Postma described the day, "Amazing tense medal race here on the last day. For the guys tied up in third and fourth it was super stressful. For me it was good. I came out with a win. But it was really close racing and only on the last downwind I went from second to the win, so happy about that."
On his regatta he said, "I came here to get a medal. I didn't do that, but half way through the regatta I was 25th and then we said we need to change something. And we changed the tactics and a little bit of speed. I didn't have the good speed yet, but the tactics worked and I am happy about the second half of the regatta. It was a solid second half."
On the Olympic qualification. "I wasn't worried about that but it needed to be done and it's still a relief. It was a relief to get that out of the way but congrats also to the other guys already now looking forward to the Olympics."
Qualifying Estonia, Deniss Karpak (EST) said, "Today I can officially say that Rio is a real thing. Before it was only an aim, a project, but I finally qualified my country and basically won the national qualification system too. The wind was quite good for me and I was fast in light wind and not so fast in strong wind, but average points were good. Anyway I didn't make the medal race but am happy with my 11th. It was good for me especially after not such a good season in Europe."
Third place went to Zbogar. "The medal race was quite nice. I had a good position because I was fifth and I couldn't lose so much but I could get up to third, so I could risk a bit more. I had a good start and a good second upwind and was sailing extremely well apart from the last downwind which was free pumping. I tried hard to the end and had just enough points to move up to third place. It's of course for me a very important moment because I was waiting for so many years to get a medal at the worlds. I was many times close but finally I did it so I am super happy."
Summing up the week he said, "We had a really nice regatta. Of course there were many ups and downs for many of the sailors, apart from Giles who is definitely ahead of the game. It will be hard to catch him in any regatta, especially at the Olympics. But we try to move forward. He has another level of sailing in the Finn so everyone is now trying to push hard to try and catch him. For sure 10-15 sailors are trying to beat him. He's unbeatable, but anything can happen at the Olympics. Everybody will be really ready for it and we'll see what happens."
Summing up his week Scott said, "I am very happy with the way this week has gone. I think it's been one of the better regattas I have sailed this year. I've managed to stay very consistent which has been hugely important here, and to be able to wrap up the championship with two races to spare, no one could ask for a better way to win a championship that that. The medal race was slightly odd for me. It's always a bit of an odd sensation when you have already got the title wrapped up. I could certainly sense there was a lot of stake for the other guys, so I was very fortunate to be carefree and cruise round to a certain extent. We got a good race in but it was pretty stress free for me."
On sailing in Takapuna. "Takapuna has been great. I think we've been incredibly fortunate with the weather. We've a brilliant mix of conditions. Light days, strong days, shifty and steady, it has been a real mix and to be successful here you've had to be able to master all those conditions. I think the class as a whole is certainly pleased with what Takapuna has had to offer and I am sure the Finn fleet will be back here soon."
On defending next year in Italy. "At the moment the plan is to do the Gold Cup next year. Everything is still a bit fluid working out exactly what we want to get done in our calendar before the Olympic Games as that is the priority but at the moment we plan to go to Gaeta and I'll be trying to do it again."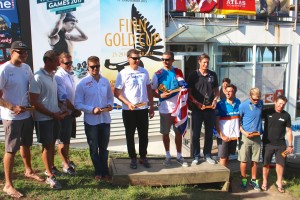 Final results (medal race in brackets)
1 GBR 41 Giles Scott 48 (8)
2 FRA 112 Jonathan Lobert 93 (4)
3 SLO 573 Vasilij Zbogar 112 (6)
4 NZL 16 Andrew Murdoch 112 (9)
5 SWE 33 Max Salminen 113 (7)
6 NED 842 Pieter-Jan Postma 119 (1)
7 BRA 109 Jorge Zarif 125 (5)
8 GBR 11 Edward Wright 135 (2)
9 GRE 77 Ioannis Mitakis 140 (3)
10 FIN 218 Tapio Nirkko 14 (10)
Full results here.
Photos: Podium, top 10, Giles Scott, Ioannis Mitakis, First upwind, Top three juniors (l-r: Ondra Teply, Fabian Pic, Jake Lilley)
Photo & report credit: Robert Deaves
Latest Race Reports…
The Finn fleets have a very active racing programme at all levels from Olympic level though to the equally keenly fought Classic fleet. To read the latest regatta reports click the images below.