Shipping options for the Finn World Masters, Helsinki 2022.
We have been looking at the options for BFA members to get their boats to Helsinki for the FWM and awaiting the announcements of the possible discount on freight rates via the event partner, FinnLines.
The best quote we have received is from GAC Pindar, for a 40' container shipped from Felixstowe, with loading at Mengeham Rythe SC. We did explore the discounted freight route using FinnLines from Hull, but the offer from FinnLines is for space only, so great if you have a large multi-stack trailer (which can go un-accompanied) but for a container we would have to add the cost of hiring the container, plus all the handling and customs fees, which made it considerably more expensive.
The approximate price/boat for a container with 9 boats via Felixstowe, delivered to the club in Helsinki and return to the South Coast would be £950.00. The includes a group ATA Carnet, ATA Carnet indemnity fee and insurance, based on an average declared value of £10,000 a boat, and the hire of the necessary racking. The price can only be a best estimate at this time, as container rates may vary by July, and it does not include possible additional costs for customs inspection, additional waiting time etc. The estimated delivery and return time is around 10-12 days both ways, but depends on the ships' sailing dates, but may be quicker – possibly a week for those looking to sail at the Bosham regatta the following weekend, but not guaranteed.
Obviously, the price depends on filling one or even two containers with 9 boats in each. If you do wish to book a slot, please reply to chairman@britishfinn.org and we will require a £200 deposit to secure your booking. You would be expected to help with the loading of your boat, as any time over the 2 hours quoted loading time would be charged extra at £65/hour.
For comparison, the approximate cost to drive to Travamundé and taking the discounted FinnLines ferry to Helsinki is around £1265.00, based on driving from the South Coast via Dover to Travamundé with a 6m trailer (11+ hours) and then taking the 35% discounted ferry to Helsinki and return. This does not allow for any accommodation en route. Helsinki is a great venue to sail and I am sure the World Masters will be a fantastic event in a distinctive Nordic location, see you there!
The BFA is pleased to announce a new member benefits scheme of exclusive discounts from our supporting Partners.
Suntouched Sailboats  are currently offering an additional 10% off their online shop prices exclusively for current BFA members on all Sandiline clothing, the Suntouched cover range, Needlespar booms and Suntouched tiller extensions.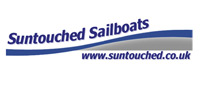 To access these exclusive rates, please email your orders direct to info@suntouched.co.uk to receive a discounted invoice.