Finn Inland Championships & Classic Finn Nationals, 8th and 9th September 2018
Oxford Sailing Club put on a superb event for 30 travelling Finn sailors. Once again the Finn showed that a classic design can attract a broad spectrum of competitors from the over 70`s happy to be sailing, to the young Under 23 team hungry for sailing success, and just about every age and level of ambition in between..!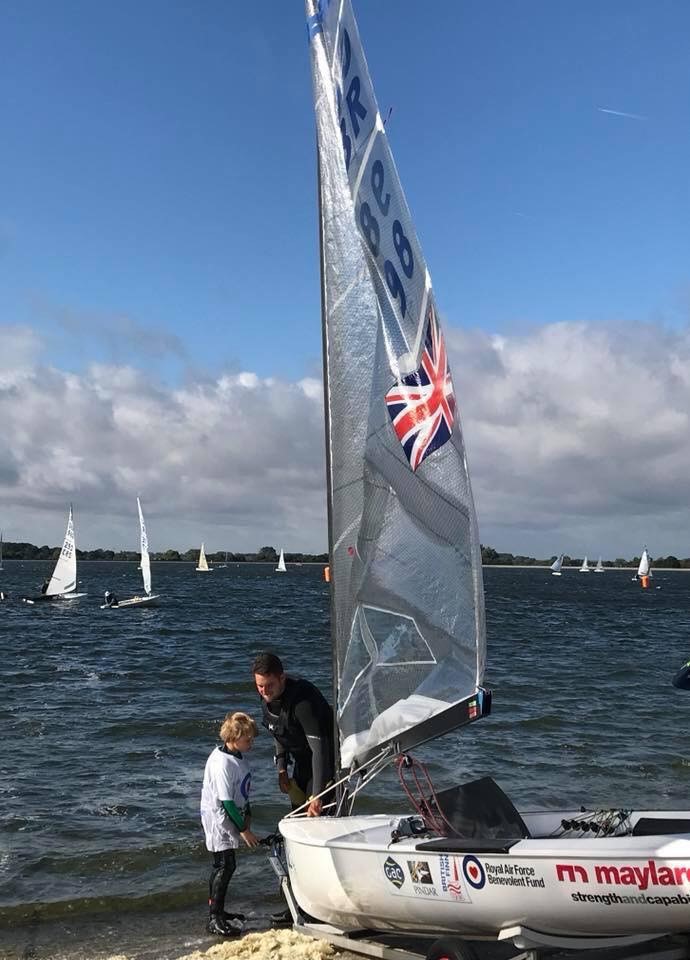 The weather was pretty much perfect for the two days with breeze ranging between 8 to 15 knots, with some hefty gusts catching out some of the fleet at various stages during the weekend. Most notable was young Jack Acton who came off worse during a gybe and as a result required a number of `Oxford Generals` finest stitches. Peter Vinton was also caught by a gust and will be spending some time making repairs to his classic..
The racing was close throughout the fleet although inevitably the U23`s led the race to the top mark although it was not always going their way. Martin Hughes with his `blue badge` put in a stella performance to led the fleet round for race 4, only to be passed later on a downwind leg, no they weren't smiling Martin ..!
At the front of the main fleet it came down to a dual between Callum Dixon and James Skulczuk, with James winning on countback after some very close racing between the two of them.
In the classic fleet Peter Blick of Christchurch Sailing Club came out on top after some challenging racing, John Barnes of East Cowed SC came in a valiant second.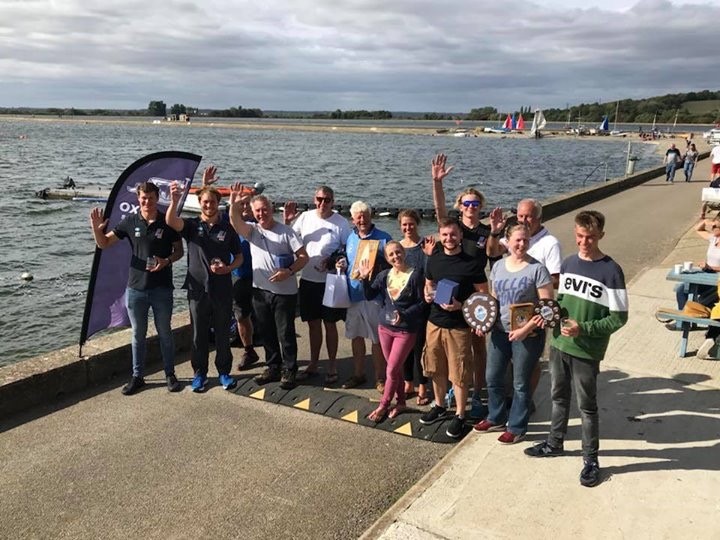 At the prizegiving the host Jonathon Tweedle aka Bruce Willis was able to hand out a prize for all competitors which was a great end to a great weekend.
Inland champion James thanked the PROs and their Race Teams, the Safety Boat Crews, Hacketts Harbour, the Results Team, the Pirate Parents that ran registration and of course the Pirates for their Stirling work on the beach assisting competitors in and out of their boats.
Further thanks needs to go to our numerous Sponsors who helped ensure that everyone took a prize home. Doyle Sails UK ,Suntouched Sailboats, North Sails, APSailbattens, Maylarch Environmental and Decathlon UK
The category winners were as follows:
James Skulczuk WPNSA / MYC U23 and Inlands Champion
Peter Blick, Christchurch Sailing Club was the Classic Finn National Champion,
Jack Arnell, Christchurch Sailing Club was first Classic with Carbon
Simon Percival, Christchurch Sailing Club was first Master
John Greenwood, West Kirby Sailing Club, was first Grand Master
Martin Hughes, Warsash Sailing Club was Great Grand Master
Ray New, Christchurch Sailing Club was first Legend,
Full results can be found in the link below
https://www.club2class.com/RaceSeries/View/1703?returnUrl=%2FSpecialEvents%2FOverview%2F52
Latest Race Reports…
The Finn fleets have a very active racing programme at all levels from Olympic level though to the equally keenly fought Classic fleet. To read the latest regatta reports click the images below.