Ed Wright won his second Finn European title on Saturday, in Cádiz, after a spectacular medal race in high winds and huge waves that nearly resulted in the race being cancelled. Nicholas Heiner, from the Netherlands, had led all week, but several capsizes and a last place left him with the silver, while Max Salminen, from Sweden did enough to take the bronze, after placing second.
The Final Race for the rest of the fleet was cancelled with sustained gusts well over 30 knots and huge seas. This meant that Nils Theuninck, from Switzerland, won the U23 European title, from last year's winner, Henry Wetherell, from Britain, and Ondrej Teply, from Czech Republic in third.
The medal race started with an average windspeed of 24 knots gusting to 29. With the huge waves it was on the limit, but the Finn sailors wouldn't have it any other way.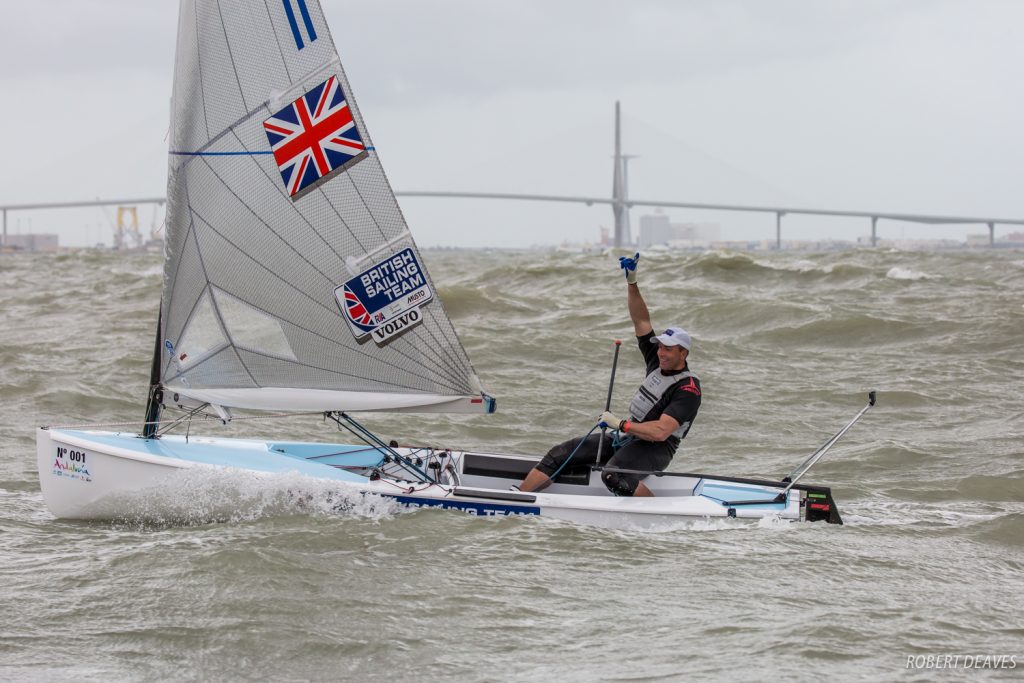 Wright got off to a great start, on top of Heiner, but Brazil's Jorge Zarif escaped at the pin end and led the fleet the entire race to cross the line with a comfortable lead. However he neglected to round the final downwind mark and was disqualified. Josh Junior, from New Zealand, and Salminen were chasing him down and Salminen hung on down the run to cross behind Zarif and Junior to take the bronze.
Heiner was having problems, capsizing on the downwind and again at the gate to trail the fleet by some distance. Wright kept upright and a fifth was enough to take the gold.
On his second European title, 12 years after the first, Wright said, "It was a crazy race. I saw Heiner capsize at the five-minute so then I realised everyone was having a hard time with the conditions not just me."
"I knew I needed to nail the start which I did and immediately rolled Heiner, which was great and had good speed to extend. I tried to sail him back and still stay in contention, as I needed boats between us. I got an early gybe in on the first run and sailed the boat hard downwind and extended. By then it was a matter of keeping it upright."
"The seas were massive and very difficult, but it was awesome sailing and awesome racing. I enjoyed every second. What a race."
"I am so happy to win the title again."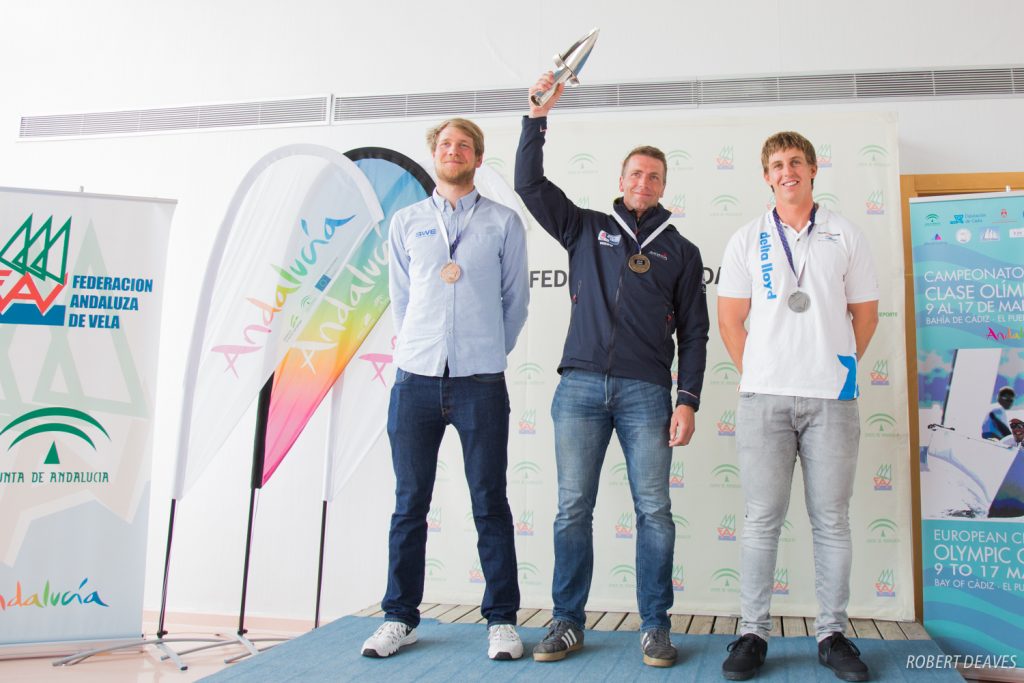 Ben Cornish finished with two race wins to pull him up to 6th after some heavy scores in the tricky conditions at the beginning of the week, but after leading the Under 23 Championship all week, Henry Wetherall missed out by a single point to reclaim his U23 European crown. With Giles Scott on TP 52 duty for Land Rover BAR there was still an impressive 10 British boats competing across U23 and senior categories, with UK Master's champion Alex Atkins making his Europeans debut with an impressive display against the Pro's.
Four members of the GAC Pindar sponsored BFA U 23 Squad continued their excellent progress, with Cameron Tweedle leading the charge, finishing just one place ahead of training partner Callum Dixon in the highly competitive field. James Skulczuk and Markus Bettum were not far behind in the 91 boat fleet. A full report from the U 23 team to follow, as they move on to the Princess Sophia regatta in Palma.
Watch the Finn Channel video of Ed Wright in the medal race here
Results after medal race (medal race in brackets)
1  GBR 11 Edward Wright 57 (5)
2  NED 89 Nicholas Heiner 60 (9)
3  SWE 33 Max Salminen 71 (2)
4  NZL 24 Josh Junior 73 (1)
5  USA 6 Caleb Paine 73 (3)
6  GBR 91 Ben Cornish 92 (6)
7  BRA 109 Jorge Zarif 97 (DSQ)
8  CRO 1 Josip Olujic 99 (4)
9  FRA 112 Jonathan Lobert 101 (7)
10  GRE 77 Ioannis Mitakis 110 (8)
Full results here.
Report by Robert Deaves
Latest Race Reports…
The Finn fleets have a very active racing programme at all levels from Olympic level though to the equally keenly fought Classic fleet. To read the latest regatta reports click the images below.