The GAC Pindar Team were off to a flying start on Day 1 of the Silver Cup, the Finn U 23 World Championship in Koper, Slovenia.
After several days of strong north-easterlies, rain and low temperatures, conditions returned to normal for the first day of racing run by JK Jadro Koper. The north-easterly Bora was still in place, but it was very unstable with shifts of 40-50 degrees all day long.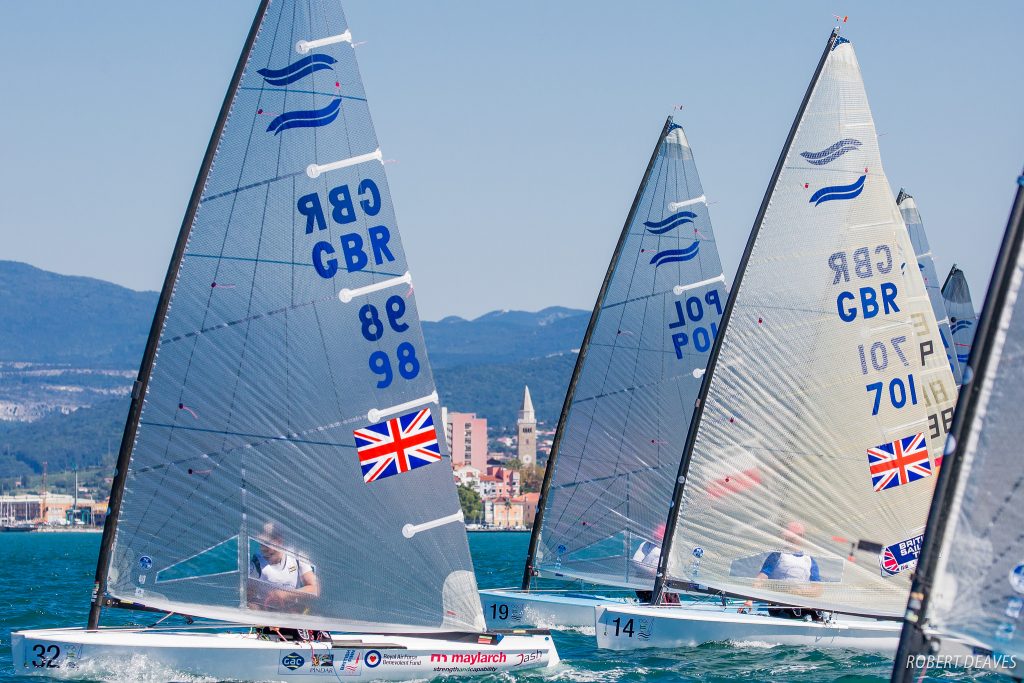 Race 1 got away first time and was decided on the first left shift on the first beat, leaving those on the right struggling to catch up. Cameron Tweedle (GBR 98) led the group on the left and just rounded ahead of the current European U23 champion, Nils Theuninck and Jock Calvert. The battled continued on the second upwind with Theuninck getting the better of Tweedle to round ahead and lead down to the finish. But these two separated from the fleet and had a comfortable lead on the chasing pack, which was really tight on the last downwind. Eventually Teply rounded the gate ahead to take third, behind Cameron – his best ever result in second. The race was proof of the progress made by the British team under Coach James Hadden, with Hector Simpson recording a 10th place, followed by James Skulczuk (GBR 81) in 13th and Callum Dixon (GBR 38) in 14th of the 36 boat fleet.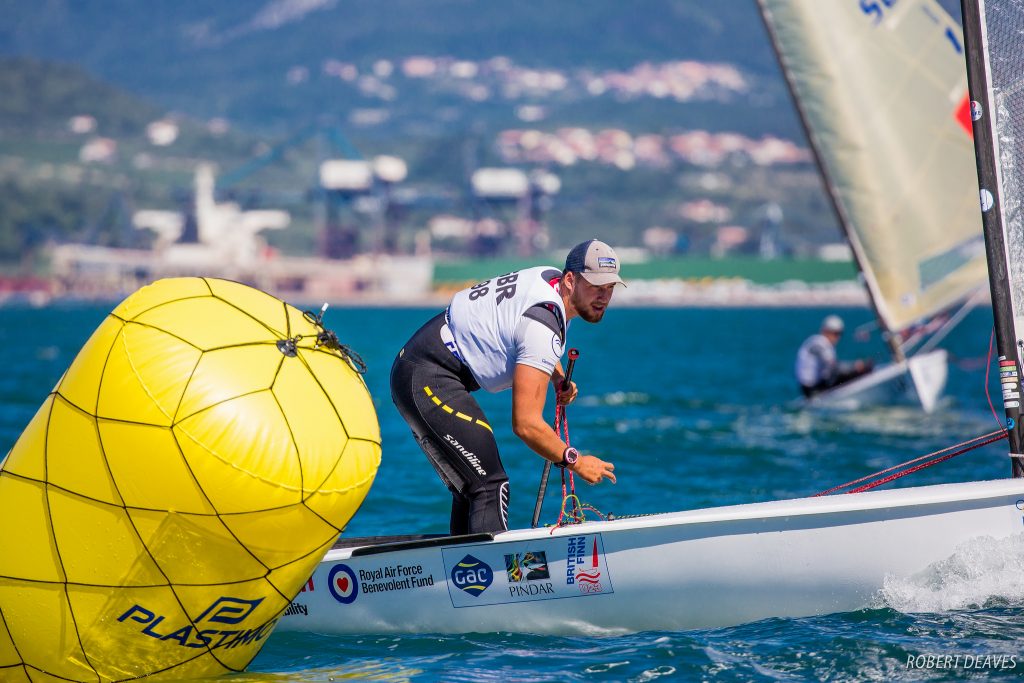 The second race took several hours to get away, the first attempt being abandoned half way up the first beat because of another large windshift. It was finally started after a long wait and then two general recalls. The wind was fighting from left to right with huge pressure changes to match and boats played snakes and ladders with the changes.
Callum Dixon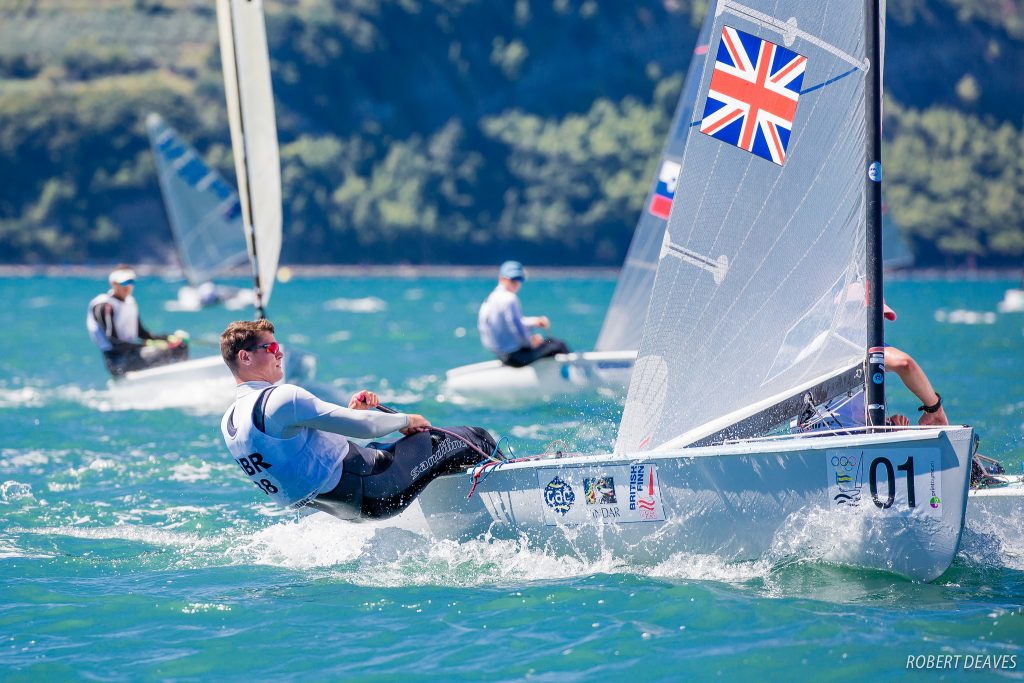 Defending champion, Oskari Muhonen played the game perfectly though and rounded the top mark from the left, where the entre group had freed off to get down to the upwind mark in another big shift. He was never headed and sailed away for a huge win. Mikhail Iatsun rounded second, but was soon run down by Teply and then by Guillaume Boisard.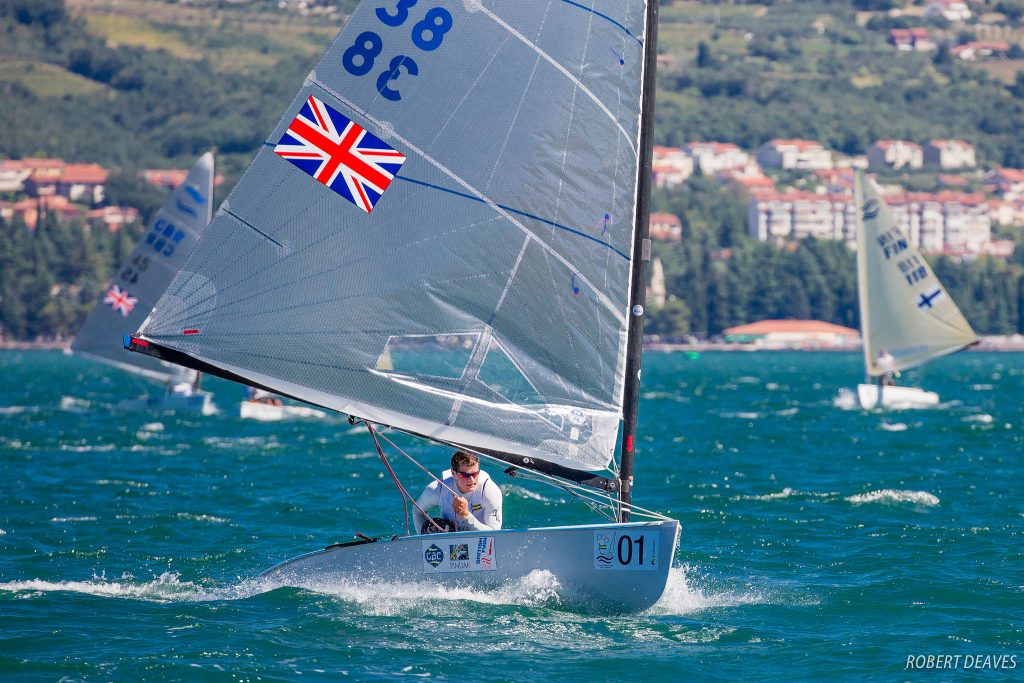 Dan Pattern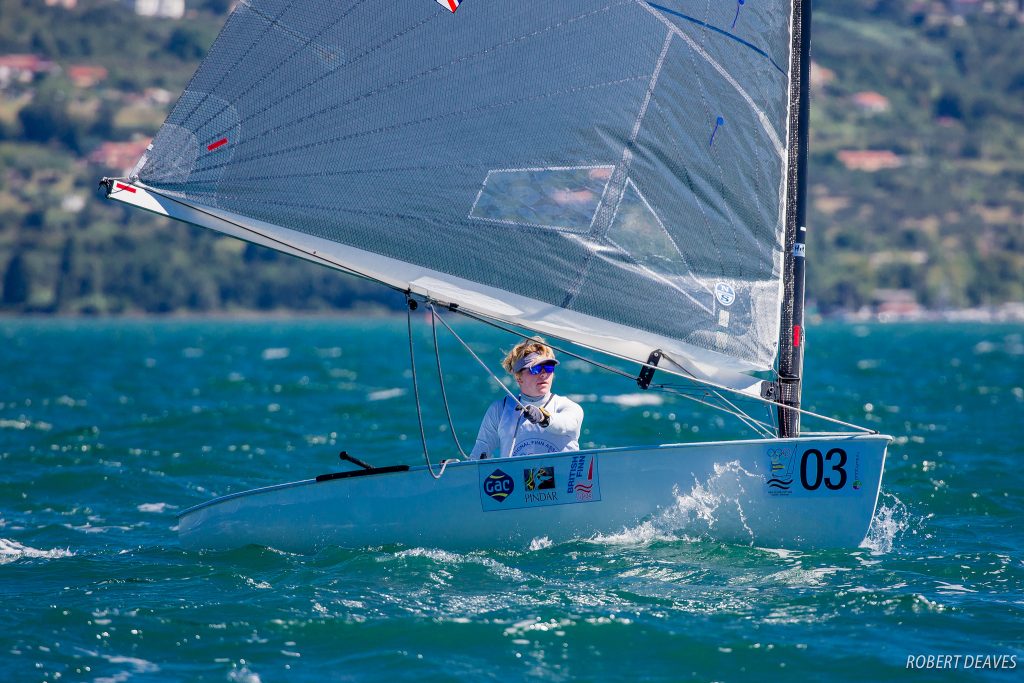 Report by Robert Deaves and John Heyes
Results after 2 races
1 CZE 5 Ondrej Teply 5
2 FIN 8 Oskari Muhonen 9
3 SUI 1 Nils Theuninck 10
4 NOR 9 Lars Johan Brodtkorb 11
5 GBR 98 Cameron Tweedle 12
6 FRA 9 Guillaume Boisard 12
7 AUS 32 Jock Calvert 13
8 GER 595 Simon Gorgels 18
9 ESP 26 Joan Cardona 22
10 RUS 1 Mikhail Iatsun 23
Full results here: http://2018.finnsilvercup.org/results/
Photo galleries here: http://www.flickr.com/photos/finnclassphotos/
Latest Race Reports…
The Finn fleets have a very active racing programme at all levels from Olympic level though to the equally keenly fought Classic fleet. To read the latest regatta reports click the images below.