Bosham Sailing Club Finn Open Meeting, April 2021
15 boats entered over the two-day event at Bosham SC, the ancestral home of British Finn sailing!
Saturday 24th April saw a 15-20kts of easterly gusty, and shifty cold air, straight off the Manhood Peninsula where the trees and the village of Itchenor chopped and changed it frequently. With an expected augmenting sea breeze, it would be a challenge for the RO and more so the sailors.
The Bosham event has traditionally featured racing around the many different harbour marks which does test memory, navigation and favours local knowledge! However, the visiting helms showed their mettle and fought through to the front consistently over the two days. Competitors would be racing around different marks in the Chichester Channel and across the harbour mouth – with a different course for every race. The exceptionally high atmospheric pressure and strong easterly airstream would grab hold of the ebb tide and giving it even more power as if some great hand had pulled the plug out. In fact, on returning to Bosham Quay sailors would have expected to find more water on a neap part of the cycle. They found what is usually reserved for extreme low water spring tides, walking the boats in for the last 30 metres to the lower quay slipway.
Race 1.
Nine boats presented at the start off Pilsey Island, but with gear failure and diplomatic disengagements we were down to six boats for a quick 30-minute range-finding race. At least the sun was shining. Fergus Allan took the early lead and maintained it, reading his chart as he scorched down wind. Mike De Courcy came through second with Julian Smith in hot pursuit.
Race 2.
The wind had finally settled to +/-120deg, necessitating mark and pin adjustments, but which only allowed a short first beat, to be more than made up by a very long second beat against the rapidly increased ebb tide across the harbour entrance. With breeze going up another notch, Mike De Courcy took an early lead, but experienced an uncharacteristic capsize at the first gybe mark, when a sudden lull followed by a big gust, caught him mid-gybe and sent him swimming. This allowed Fergus Allan and Julian Smith to pass. However, that long second beat afforded Mike to take the advantage of Stocker Bank shallows to reduce the effect of the tide with Andy Wylam making the same choice to squeeze out Fergus with Julian maintaining second place.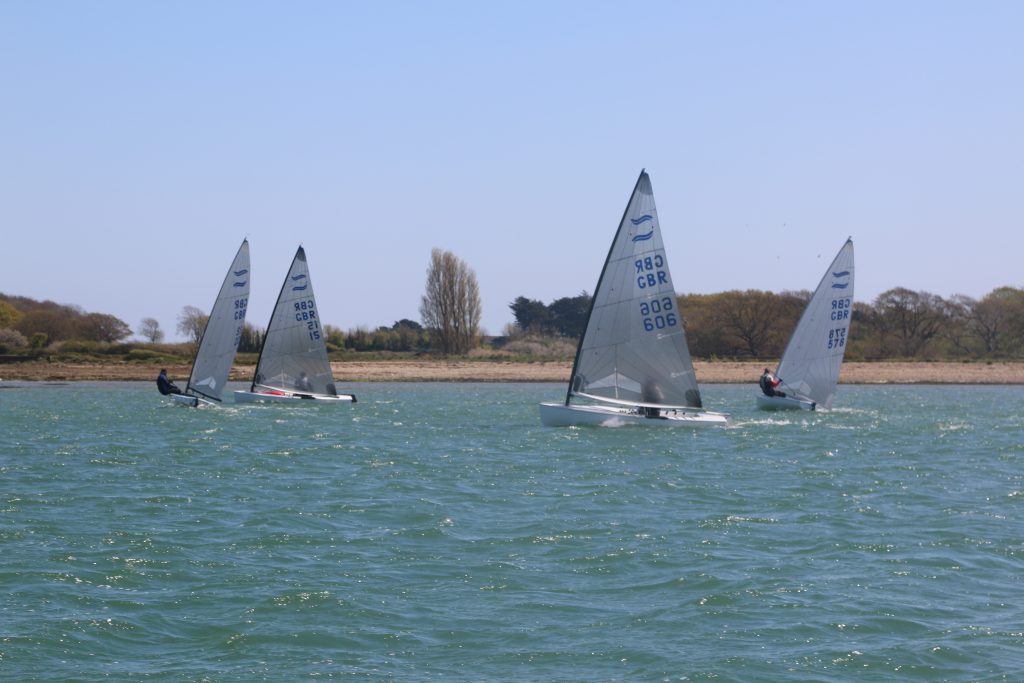 Race 3.
The chill and strenuous conditions took its toll and the last race of the day saw only three present at the start. Again, Fergus Allan drew away followed by Andy Wylam and Stephen Hart. This race took them up harbour to some even more gusty and shifty areas of Itchenor, before once more turning south with no change of boat order.
The conditions for day 2 were similar to day one with a few degrees more Northerly in the gusty breeze. The committee boat was set off Pilsey Island to give space for a windward leg back towards ENE. Cambermet was showing 15 knots with gusts to 25 knots with significant changes in direction.
Race 4:
With the committee boat favoured there was a crowded and clean start with the majority of boats picking to go up the shore of the Thorney Island to the windward mark, Peacock. Jules Smith choose the wrong side and had a lot of catching up to do. The leading pack choose to sail higher and jibe back to the leeward mark while Jules made ground keeping low. The big gusts caught a few boats out at Freddy Brookes but they were quick to get their boats upright and continue. Jules Smith took the best side on the beat back to John Davis but not enough to get ahead of Fergus Allan who secured his third bullet of the regatta with Julian Smith second and Mathew Walker making a guest appearance in third having sailed over from Mengeham.
Race 5:
The race officer kept the same line and first beat to Peacock as Race 4. This time the crowd at the committee boat were over the line excited to get ahead in a growing ebb tide. The fleet were called back and got away cleanly on the second attempt (under Uniform). After Peacock the windward leg was stretched on to Itchenor with the fleet creeping up the Eastern shore to keep out of the vicious tide and aiming to catch any shifts that might hold for than a moment. It was then a long run back to John Davis before looping round to the finish. Again, Fergus Allan prevailed just ahead of Jules Smith and John Heyes in third.
Race 6:
Conscious of the distance and tide the race officer moved the start line for the last race back to the South of the 'stake' island to the South east of Cobnor, five remnant Finns were on the line to head up to the Itchenor buoy, run down to Rockwood and back to the CB to finish.  The harbour was rapidly emptying of water, the wind gusting up towards 30 from the NE, which had the fab five jostling for advantage in a mere few feet in the shallows heading up to Itchenor.  Rounding the buoy and back out into the current, VMG downwind was fast- hanging on for dear life trying to not be upset off a wave into a death-roll, Chinese gybe or any other such manoeuvre that was going to result in a swim.  Enough swimming had already been taking place.  Exhausted, the little fleet all crossed the finish line, with John Heyes concluding with a fanfare first, Julian Smith second, Mike De Courcy third. Then the one last reality check – home – up Bosham Channel, against that torrential tide (again), precious little water to tack in, moored yachts and head into a funnelling/gusting 30 knot breeze.  If sailors felt tired, unaccustomed to such strenuous exercise during Covid-lockdowns etc, it was about to get worse.  Back to battle for position in the shallows!  Tack, tack, tack, tack.. all the way home.
Prizes-giving, beers teas and coffees welcomed the sailors on the sailing club terrace, sheltered and still in glorious sunshine, thanks to race support, race officer and family, rib drivers, and mark layer. Thanks also to Rodney Cobb of Suntouched Sailboats, a great supporter of the Bosham Finn fleet and past winner, for his generous sponsorship of discount voucher for Sandiline hikers for the top 5 finishers. A special thanks to the sailors for coming to Bosham was given by the Commodore Paddy Mirams.
We can hope for less challenging conditions next year.
Report & Photos compiled by Dick Pratt and Bosham Finn helms.
Results:
Rank
SailNo
HelmName
Race 1
24-04-2021  
Race 2
24-04-2021  
Race 3
24-04-2021  
Race 4
25-04-2021  
Race 5
25-04-2021  
Race 6
25-04-2021  
Total
Nett
1st
86
Fergus Allan
1.0
(4.0)
1.0
1.0
1.0
4.0
12.0
8.0
2nd
720
Julian Smith
3.0
2.0
(16.0 DNC)
2.0
2.0
2.0
27.0
11.0
3rd
21
Michael De Courcy
2.0
1.0
(16.0 DNC)
4.0
4.0
3.0
30.0
14.0
4th
61
John Heyes
4.0
5.0
(16.0 DNC)
6.0
3.0
1.0
35.0
19.0
5th
22
Andrew Wylam
5.0
3.0
2.0
5.0
6.0
(16.0 DNC)
37.0
21.0
6th
578
Stephen Hart
6.0
6.0
3.0
9.0
8.0
(16.0 DNC)
48.0
32.0
7th
15
James Symons
(16.0 DNC)
16.0 DNC
16.0 DNC
8.0
5.0
5.0
66.0
50.0
8th
606
Jeremy Drummond
(16.0 DNC)
16.0 DNC
16.0 DNC
7.0
7.0
16.0 DNC
78.0
62.0
9th
100
Mathew Walker
(16.0 DNC)
16.0 DNC
16.0 DNC
3.0
16.0 DNC
16.0 DNC
83.0
67.0
 
 
 
 
 
 
 
 
 
 
 
Latest Race Reports…
The Finn fleets have a very active racing programme at all levels from Olympic level though to the equally keenly fought Classic fleet. To read the latest regatta reports click the images below.