Once again the leading sailor all week has been beaten by the medal race. Pieter-Jan Postma (NED) had led the Aquece Rio 2015 test event all week but couldn't match world champion Giles Scott (GBR) in the final decisive showdown under the Sugar Loaf. And what a thrilling final showdown it was. While Scott took the Gold, Tapio Nirkko (FIN) concluded an outstanding series with a second place to take the Silver. Postma goes home with the bronze.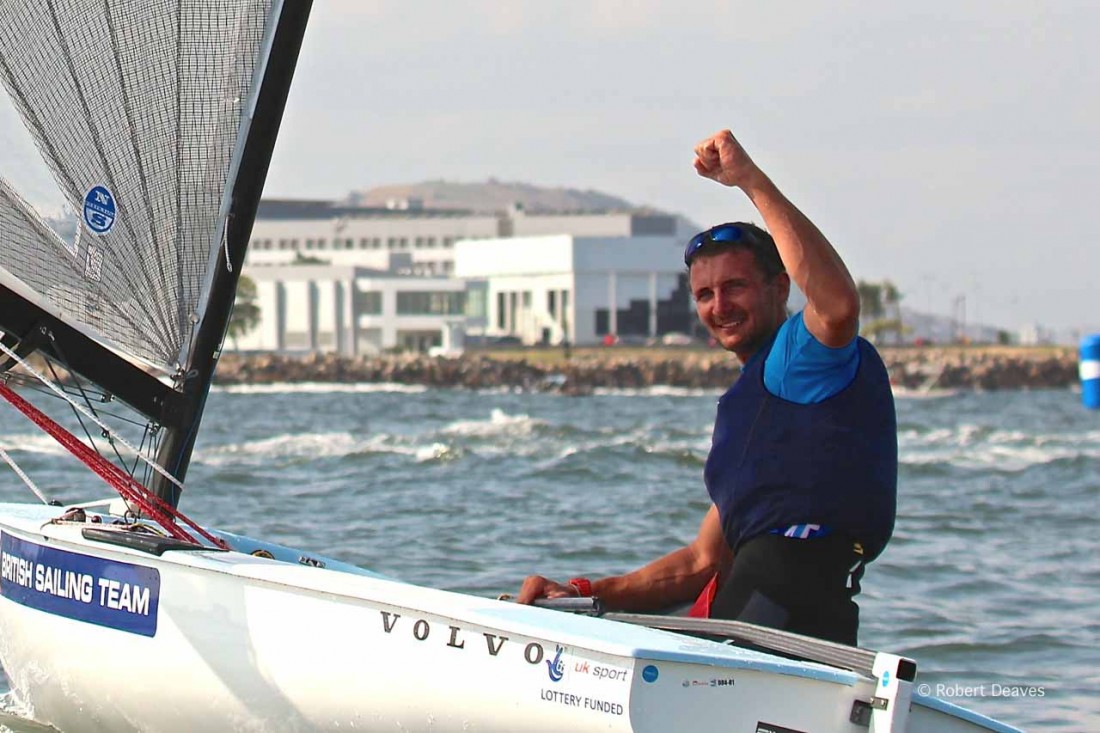 Scott left it to the last race to pass Postma, who had led the regatta for the last six days after sailing exceptionally well. As usual the Finn athletes made it a tense and thrilling medal race, while Rio dealt up probably the best conditions on the course area all week with a relatively steady 8-12 knots straight over the top of Sugar Loaf, under beautiful blue skies.
The left was clearly the way to go on the first upwind. Josh Junior (NZL) won the pin and found a lane of pressure to advance forward on the fleet. He never looked back. Postma was just above him but was soon forced to tack off and ducked most of the fleet while heading to the right. Scott persevered to the left but couldn't match Junior who led at the top from Anders Pedersen (NOR). Scott rounded third with Postma in ninth. It looked like it was over…but it wasn't.
Junior extended down the run but a yellow flag for him allowed Scott to close up. The fleet again favoured left on the second upwind with Nirkko going further left than most and hooking a left shift into the mark in third behind Junior and Jonas Høgh-Christensen (DEN).
Postma had also made gains to round right on Scott's transom and they headed downwind a few boatlengths apart. Junior went on to win while Nirkko moved up to second. Scott pulled away from Postma downwind to make sure of the win while the Dutchman stayed close enough to Jonathan Lobert (FRA) to secure the bronze.
A understandably downhearted Postma said, "It was an exciting week. It was good racing and a good fight. Also today on the Medal Race it was a great fight. In the race I think the left was paying. I started left from Giles but then I lost some speed and I couldn't hold a lane and that was a bit of a problem. I had to tack away so it wasn't a good first upwind. I had a nice downwind. On the second beat we came close together, only a few metres apart but on the downwind we were only two boat lengths apart and Giles had a bit more speed so he won."
"I think I'm on a good road, but today was a little bit tough for me as I lost from first to third."
But there were also positives for Postma. "I qualified [for the Olympic team] as I finished in the top three here. I wanted a top three and I did it. So that's in the pocket. We'll do some more training, and qualify the country in Takapuna but let's not forget we sailed a good regatta here with all the Finn sailors and I'm thankful to be here, thankful for the coaching, my family and our sponsors."
Nirkko described his week as, "Maybe the best regatta of my life so far."
"I was just very consistent, even on different race areas and conditions, so I am really happy, especially with all races in the top 10 and the medal race today was a great race."
Scott once again stood at the top of the podium, now unbeaten in more than two years. He made hard work of this week, but pulled it together when it counted.
On the race. "I felt relatively good at the start. PJ followed me around a bit to try and unsettle me but I kind of managed to stick to my game plan and I wanted a good start with a bit of space in the middle of the line which is what managed to get. Then I went with Josh to the left and we came in looking quite good at the top and then down the first run the wind dropped off a bit. PJ was a long way behind, but he pulled up down the left hand side and then took the left turn at the bottom. He gained and got right back on my transom and then at the same time, the Finnish was going left and gaining a lot. It was a very difficult race to manage so I was fortunate to just about hang on to it."
On the course areas, "I think those conditions are pretty standard for what I'd expect to see on the Sugar Loaf course. When the sea breeze comes in in that direction the wind is just rolling off the top of Sugar Loaf and it does make for some very tricky racing."
For some his win seemed inevitable. "I wish I could be so confident. After the first three races I was in a pretty dark place. I didn't feel I sailed that well. It really wasn't the best of starts to the regatta for me. It's quite nice in hindsight to have gone through that and still be able to pull my finger out for the rest of the week and claw back to PJ who had been on top all week."
Does he think it is easier to defend or attack in these races, "Every medal race is so different. It's amazing how you do 10 races and ultimately the regatta comes down to tiny little decisions here and there in a medal race, but whether its easier to defend or attack, I don't think it's either. Medal racing is very, very tricky and it needs a specific skills set."
And what next, "Next for us is the worlds in Takapuna, New Zealand, which should be great, and until then I will try and take some time in Weymouth and then we're back here again in December because there is a local regatta going on."
You can never read too much into a test event results but speak to the sailors and they generally think Scott will be the favourite in 12 months time. It is also worth considering that this test event was Scott's narrowest victory in a long time, even though many of those here were using their second set of gear, so the message is clear that the battle is still wide open and it is still a long road to the podium at Rio2016.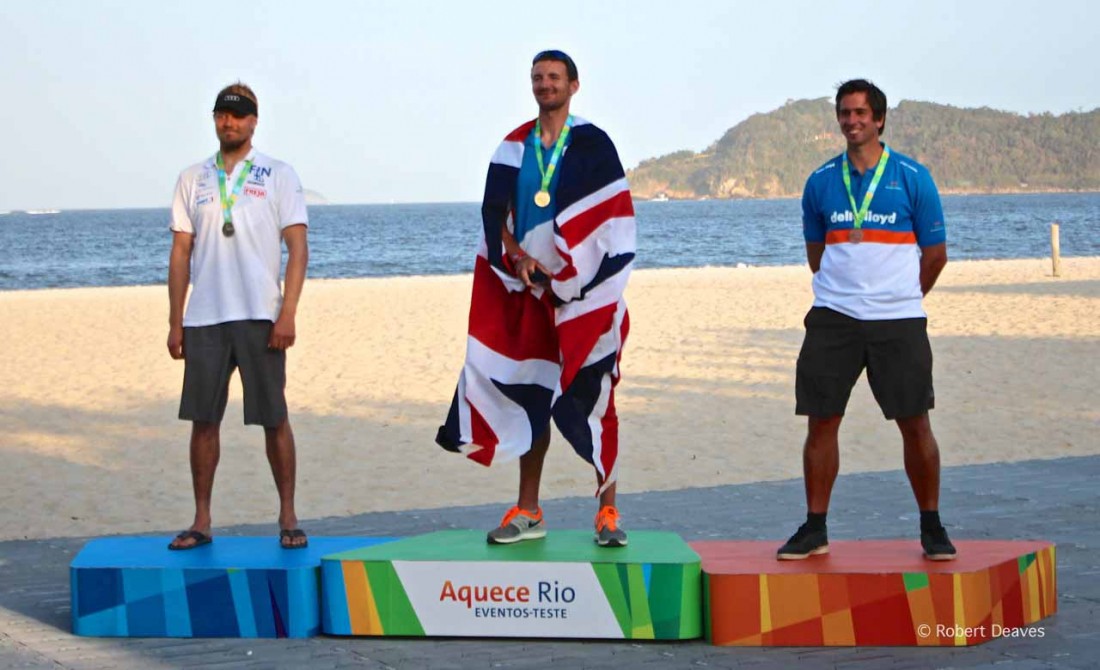 Results (medal race in brackets)
1 GBR Giles Scott 44 (4)
2 FIN Tapio Nirkko 47 (2)
3 NED Pieter-Jan Postma 51 (8)
4 FRA Jonathan Lobert 55 (5)
5 NZL Josh Junior 60 (1)
6 SWE Max Salminen 72 (6)
7 DEN Jonas Hogh-Christensen 86 (3)
8 AUS Jake Lilley 93 (9)
9 BRA Jorge Zarif 97 (7)
10 NOR Anders Pedersen 108 (10)
Useful links
Finn Class photos (free for editorial use): www.flickr.com/finnclassphotos
More rights free imagery from Sailing Energy available here.
Results: http://www.sailing.org/olympics/rio2016/results/index.php
Latest Race Reports…
The Finn fleets have a very active racing programme at all levels from Olympic level though to the equally keenly fought Classic fleet. To read the latest regatta reports click the images below.