Race week 2018 was a truly memorable and vintage year for the Finn fleet with great racing in 14-18 knots everyday. It is a unique and very accessible regatta – you can sail the whole week or just join the odd day if time is tight. With one race most days and 2 on Wednesday, you can fit work around it and role up for an afternoon start. With good, long laid courses with some added tidal strategy thrown in, it made for a classic Finn challenge.
This year Race Week attracted a wide range of 28 Finn sailors past and present, Fantastica's to Classics and every model of Finn in-between. Ex British Sailing Team member Pete McCoy from Emsworth borrowed a boat to sail the whole week whilst another Ex British Team member from a previous generation on his way back from coaching at the Gold Cup couldn't resist the temptation to sail once again on his old home patch! Rob McMillan, now a resident of Sydney, AUS was desperate to borrow a boat and took great delight and winning the first two races, enjoying a close battle with Pete McCoy and Matt Walker on the first two days. Rob was heard to exclaim that Sydney harbour was great but it didn't have the soul of Chichester Harbour!
The rest of the fleet was made up with Finns from Mengeham, Bosham. HISC and 4 visitors. The latest generation of Finn sailors was represented by Cameron Tweedle of the GAC Pindar BFA U 23 squad who was planning to have a break from Finn competition before the Silver Cup, but after breaking the mast on a 59er was another who couldn't resist the pull of the Finn and jumped into a borrowed boat to score a 2,1 in the last two races. However it wasn't enough to beat Dad Jon overall, who had a great week to claim 3rd O/A, level on points with Matt Walker in second. Tweedle senior waxed lyrical on his Facebook . "What a brilliant week of racing it's been at Chichester Harbour Race week. Delighted to have come 3rd in the Finn Fleet which has gone from strength to strength with an entry of 28 boats this year…..an absolute army of volunteers that make this one of the best events of the year."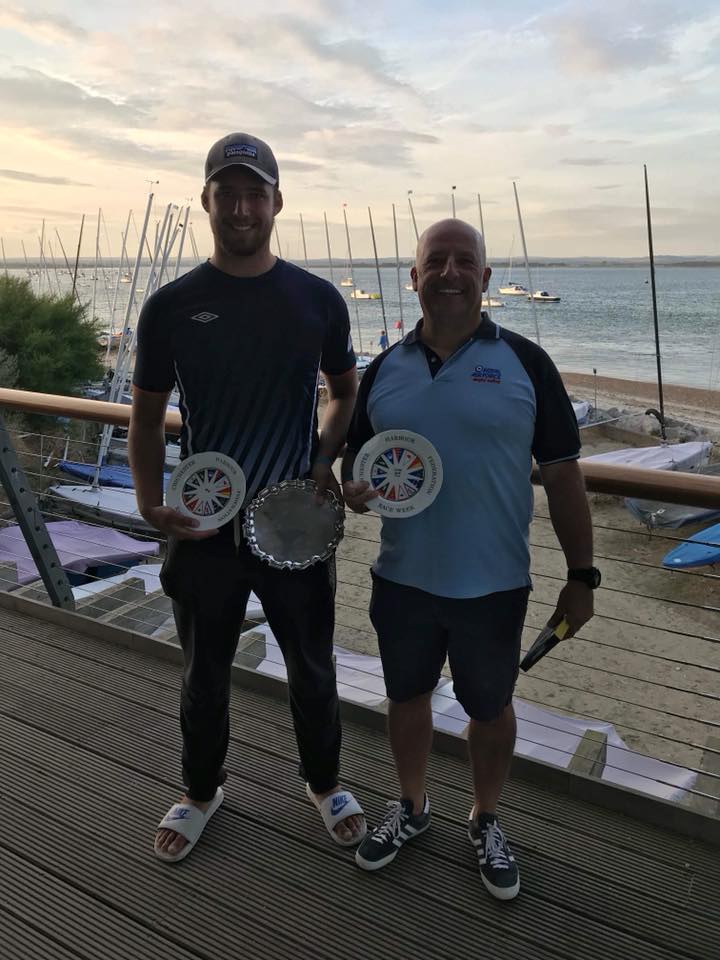 Cameron & Jon Tweedle
Robin Grange from Mengeham Rythe commented," This was the first Chichester Race Week I have taken part in. Excellent racing with good company and not bad wind. I would recommend anyone to give it a go".
Results:
1st Peter McCoy, Emsworth Slipper, 5.0pts
2nd Matt Walker, Mengeham Rythe SC, 11.0pts
3rd Jonathan Tweedle, RAFSA, 11.0pts
4th Russ Ward, Mengeham Ryther SC, 22pts
5th Mark Macdonald, Mengeham Rythe SC ,22pts
Latest Race Reports…
The Finn fleets have a very active racing programme at all levels from Olympic level though to the equally keenly fought Classic fleet. To read the latest regatta reports click the images below.