Scott returns triumphant!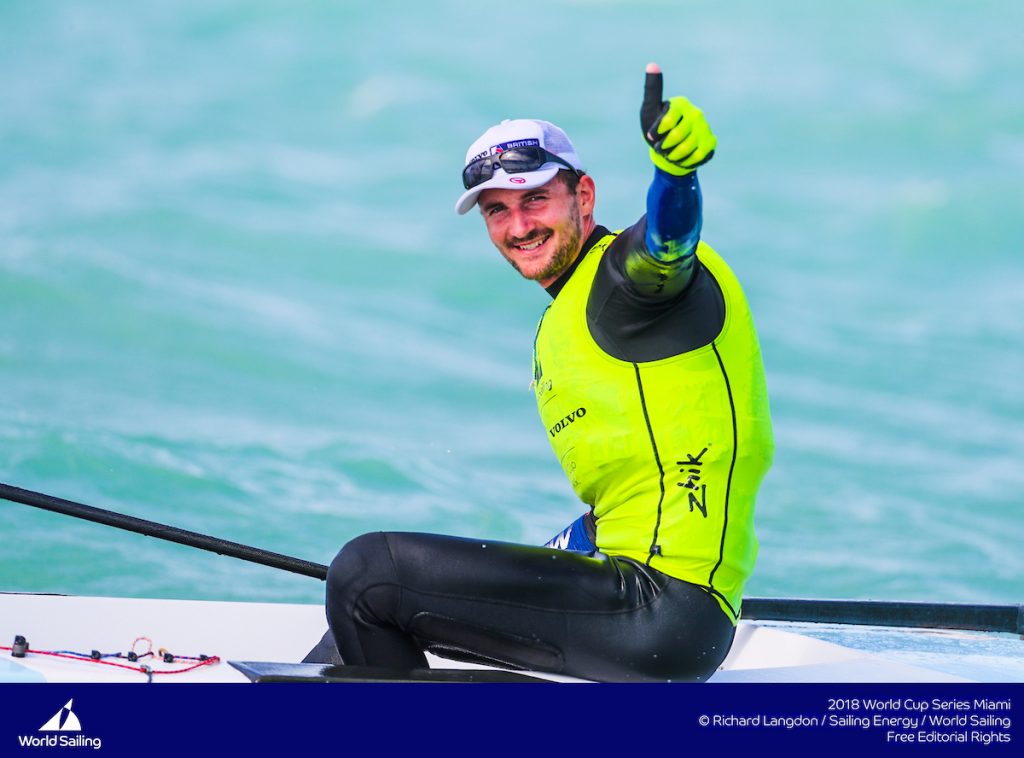 © Richard Langdon/Sailing Energy/World Sailing
Olympic gold medalist Giles Scott confirmed he is still the king of the Finn class with an emphatic win in the medal race at the World Cup Series event in Miami today to take the gold by 32 points. Rio bronze medalist, Caleb Paine, from the USA, went into the day in third place, but sailed a blinding final downwind to steal the silver medal away from Alican Kaynar, from Turkey, who had to settle for the bronze.
While Scott had already technically done enough to secure gold, the real interest was the fight for silver and bronze and it turned into something of a thriller. Sailed in 16-20 knots the medal race produced some fantastic sailing and close racing. The line up included eight Olympians from Rio, including two medalists. No one was along for the ride. It was a very high-calibre fleet.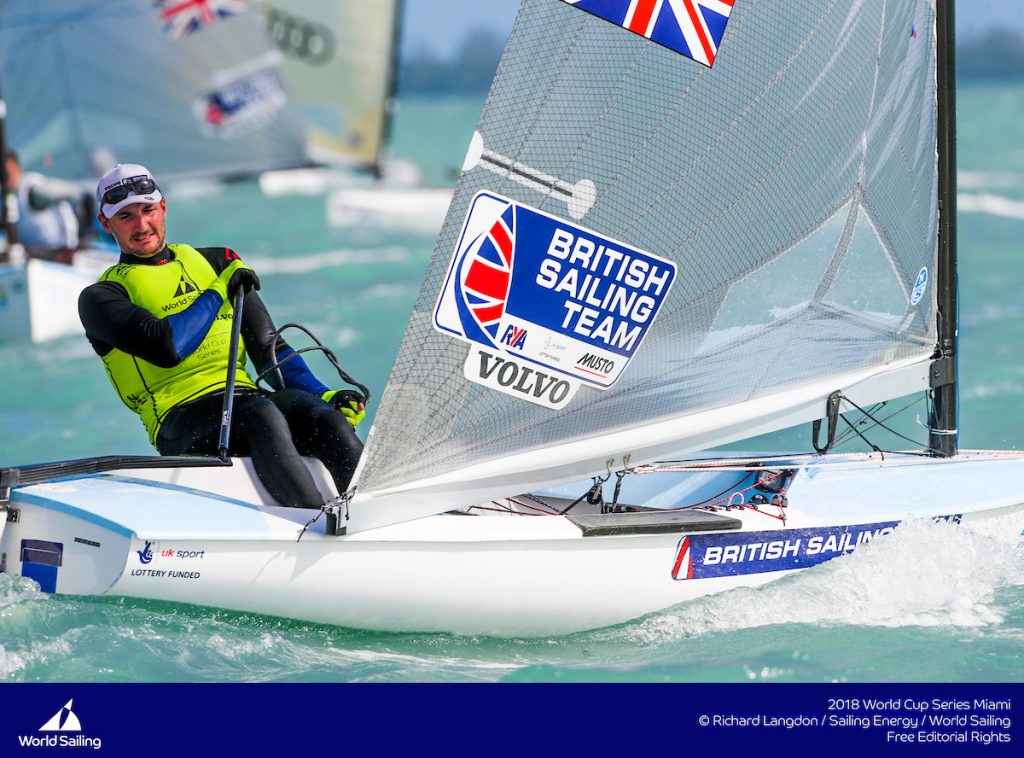 Paine engaged Kaynar in the pre-start and both started back from the line. Kaynar looked to have the early advantage, but on the first cross, Paine was ahead. Over the next four legs the medals changed handed countless times. Kaynar only needed to be next boat after Paine or better to secure silver. Paine needed to put one boat between them to snatch the silver.
Paine led through the gate and then allowed Kaynar to escape to the left on the second upwind. Again when they crossed Paine was still ahead, but it was still close. They approached the final upwind mark in eighth and ninth.
Down to the last run, Kaynar looked to have done enough, but on the approach to the final mark before the short leg to the finish, Paine passed two boats and the silver was his. With no more opportunities to pass, Kaynar had to settle for the bronze after being in the top two overall all week.
The race was led from start to finish by Scott in a dominant display that belied his near absence from the class since Rio. Brazil's Jorge Zarif crossed second after sailing round in second for most of the race, while early third place Max Salminen, of Sweden, lost his way in the second upwind, with Ben Cornish, from Britain, eventually crossing the finish in third.
Scott said that he was happy to be back in the Finn.
"It's great to be back in the boat. Miami gave us some different conditions, which was nice. It's really good to be able to come back to the class, catch up with everyone and get some greathigh class racing in."
He said the class has moved on since Rio. "There are a lot of great sailors coming through and people are clearly try a few different things with kit, which I think is great for the class."
"I was able to race well all week. Alican put a great first few days in so it was looking close for a while, but I suppose my good last day was enough to sneak the 19 points."
After nearly a year and a half away from mainstream Finn competition, the four-time world champion and Olympic champion Giles Scott, is well and truly back. The fleet in Miami was world class, so to secure the gold with a day to spare is a remarkable performance after so long away from Finn competition. Scott's performance on the final two days was enough proof that he is still the king of Finn sailing. The target remains on his back.
Results after medal race (medal race results in brackets)
1  GBR 41 Giles Scott 19 (2)
2  USA 6 Caleb Paine 51 (6)
3  TUR 21 Alican Kaynar 54 (9)
4  BRA 109 Jorge Zarif 61 (2)
5  GRE 77 Ioannis Mitakis 62 (5)
6  SWE 33 Max Salminen 72 (7)
7  FIN 218 Tapio Nirkko 74 (8)
8  NOR 1 Anders Pedersen 77 (10)
9  GBR 11 Edward Wright 78 (4)
10  GBR 91 Ben Cornish 82 (3)

Full results, live tracking and much more: https://wcs2018-miami.sapsailing.com/
 Report bt Robert Deaves, IFA.
Latest Race Reports…
The Finn fleets have a very active racing programme at all levels from Olympic level though to the equally keenly fought Classic fleet. To read the latest regatta reports click the images below.