Malcesine, Oct. 4 – The conclusion of the Italian Cup 2015 Finn could not be better, with a record edition of the International Finn Cup – Trophy Andrea Menoni, at Malcesine, with the participation of 93 sailors from 16 nations, including BFA sailors Ben Cornish, Pete McCoy and James Hadden.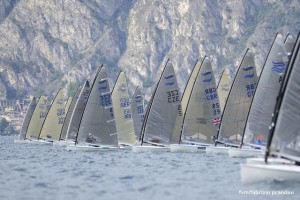 The level was exceptional, with the presence among others of the top three finishers at the European Championship 2015 (Croatian Kljakovic Gašpić, kiwi Josh Junior and Slovenian Zbogar), World Champions and European Juniors (Czech and Russian Teply Kistanov) and the World Masters Champion, Russia's Vladimir Krutskikh. Perfect weather conditions prevailed and thanks to the proven organization of FVM all six races scheduled were sailed in all wind conditions.
The first race was really epic, with rain showers and a 'Peler' wind, always over 25 knots and gusting up to 33 knots, which worked the fleet hard causing numerous retirements but virtually no damage.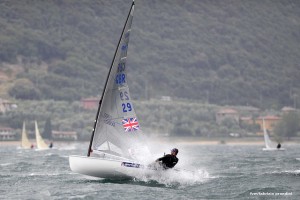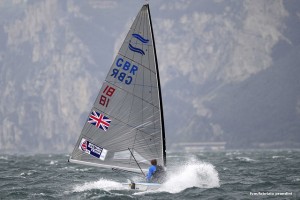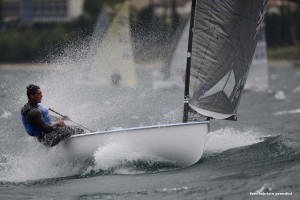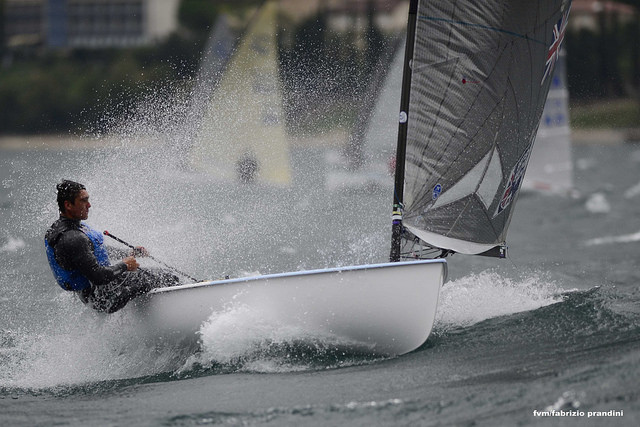 The remaining races were sailed in both 'Now' and 'Peler' winds, with intensity ranging from 8 to 14 knots, with some very aggressive starts and consequent numerous disqualifications for early departure.
It was a hard fought fight in the top, with the final victory going to Michele Paoletti (SV Barcola Grignano and Team Great), always in the first positions and winner of the last race, where the top three were presented with the same points. Michael confirms his state of form, already seen in Naples where he recently won the title of Italian Champion. He was also awarded the Trofeo Andrea Menoni, dedicated by his son Nicholas to his father, the technician IVF Andrea Menoni.
In second place was the Turkish Alican Kaynar, and third was Slovenian Vasilij Zbogar, two-time Olympic medalist in the Laser. Fourth was UK National Champion Ben Cornish, followed by the strong New Zealander Josh Junior.
At the award ceremony, the President of the FVM, said he was very pleased with the quality and quantity of the participation and recalled the beginnings of this race, with the major stimulus to its growth given by the Finnista of Lake Caldaro ,Hans Chiochetti.

The video summary of the race, carried out by Ernst Bruns, is available at: https://youtu.be/AliYUXNljEs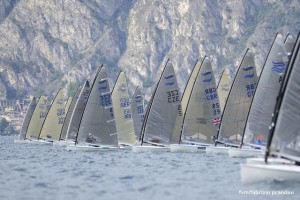 Photos of the event Fabrizio Prandini are available on the Flickr page of the FVM at: https://www.flickr.com/photos/123779010@N07/albums/with/72157659035078619
(Apologies for lack of results, please send to the Chairman if you find them online)
Latest Race Reports…
The Finn fleets have a very active racing programme at all levels from Olympic level though to the equally keenly fought Classic fleet. To read the latest regatta reports click the images below.