Pieter-Jan Postma (NED) leads the Finn fleet at the Aquece Rio 2015 Test Event for the fifth day in a row and has again stretched his lead to five points with just three races to sail. Tapio Nirkko (FIN) is back up to second while Giles Scott (GBR) remains six points off the lead in third. Race wins went to Postma, Scott and Ivan Kljakovic Gaspic (CRO).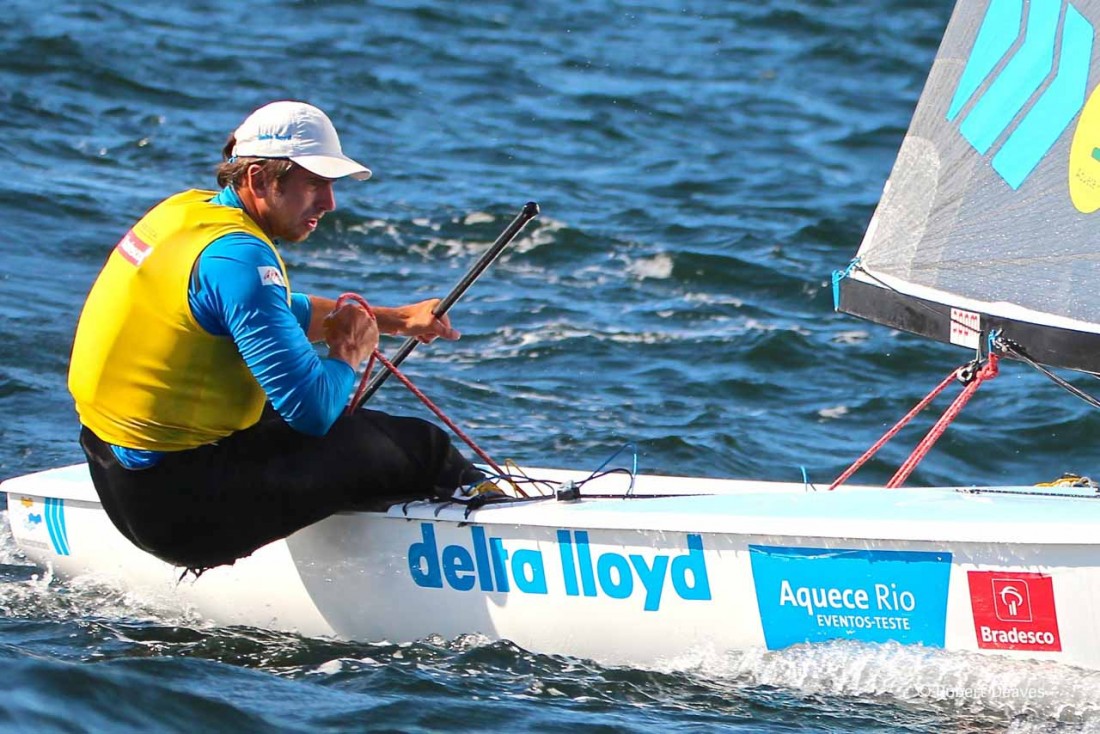 The Finn fleet is back on schedule with three races completed on the Pai course area, the furthest offshore course that is being tested this week. While the wind never quite reached the speeds expected, it peaked out at around 14 knots with some large underlying swell keeping it interesting. The wind produced some large shifts as well, bringing some new faces to the front.
The first race belonged to Postma, leading most of the way to pick up his second race win of the week. Jonas Høgh-Christensen (DEN) began a great day with a second while Josh Junior (NZL) recovered from a 13th at the first mark to cross in third.
The second race, race 7, was won and lost on a big shift on the second upwind. Høgh-Christensen was the early leader building a significant lead by the end of the first run. However the left paid on the second upwind with Scott leading a bunch of boats left while the Dane stayed with the main group on the right. The left worked and Scott moved into the lead from 11th at the first mark, Caleb Paine (USA) moved up to second and Ioannis Mitakis (GRE) third. Postma recovered from 18th at the top mark to cross in fourth.
Race 8 was equally as shifty, but Kljakovic Gaspic, put his second yellow flag of the previous race behind him and dominated the right side to lead round the top and extend throughout to win from Jorge Zarif (BRA) and Nirkko.
After having his lead narrowed to almost nothing the previous day, Postma has now extended to five points clear with just two races to sail, on the inside Naval course area on Friday before Saturday's medal race. In such a small fleet five points could make the crucial difference. The Naval course is known to be a difficult racing area with a strong current and shifting wind patterns. Meanwhile Nirkko is sailing very well and not doing much wrong. He is the only sailor to maintain top 10 every race. Of course, Scott can never be discounted. He is still six points back from the lead and is not quite sailing as well as he hoped to be, or that everyone expected, but there are still plenty of points to be won and lost in the final three races.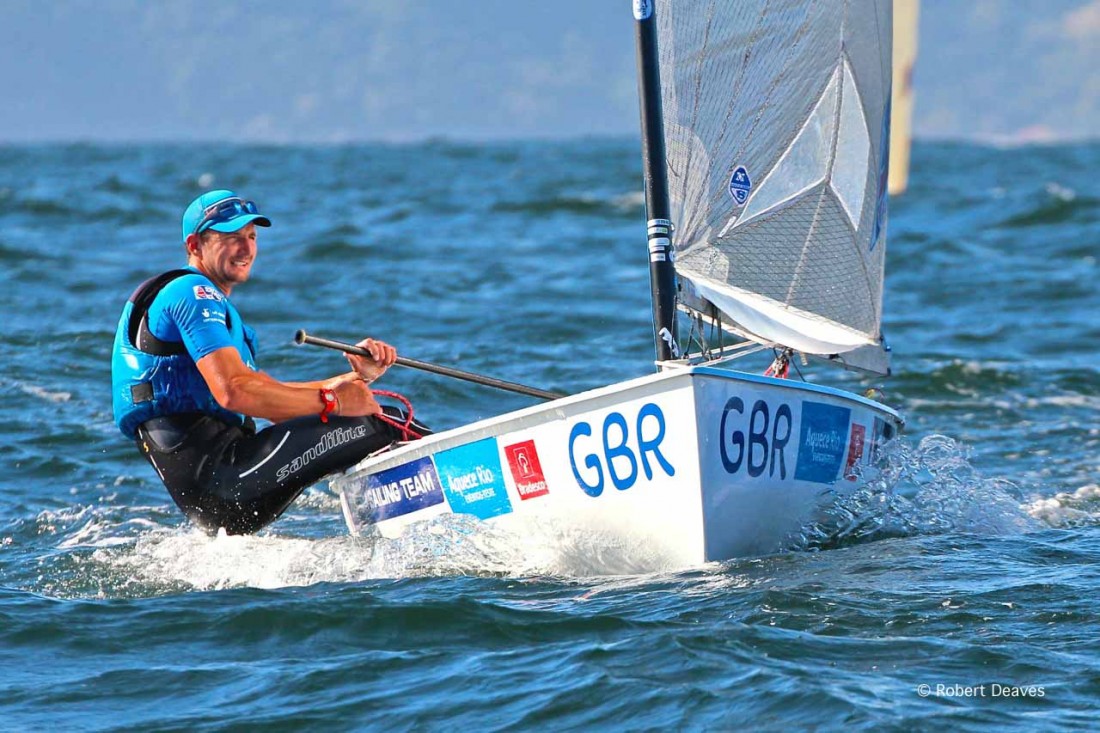 Kljakovic Gaspic, current European champion, described his day. "It was fun and it was not a bad day for me. But I still have issues with my speed and in the first race it was really frustrating seeing the guys just passing around me again, but I managed to play again a little later on to save some places, but it's really frustrating to sail without any speed. In the second race I got a second yellow flag on the first downwind, which was a bit of surprise, but the jury saw it, so OK. Then the third race was quite a clear lane for me. I started on the right and went all the way right, quite patiently waiting for a righty which came and in and paid off and I won the race."
"This event is not important for me regarding results but you now any time you are racing you want to win, so we want to do our best, I know that I came here without proper training and I had just one day's sailing before the racing so I was not basically ready for the event, and the equipment was not tested, and not the best one so I am not really happy with the boat and therefore my results are quite bad. I think this is one of the first times in my life when I may not make the medal race."
Høgh-Christensen, the London 2012 Silver medalist, who returned to the campaign trail earlier this year, said, "It was a difficult day with big waves, and a lot of struggling to do, and marginal pumping conditions. Some downwinds were free pumping and some were not. There were some big shifts in the second race, a big one to the right in the first that I got right and I was leading big time and there was a big left shift and I went down to third and I lost a couple of boats on the downwind, but all in all a half decent day for me."
Postma said, "We did three races today and it was not that easy. We actually had 8-12 knots and it was a good fight. First race for me was good and I won. The second race it started to get more and more shifty during the day and a big right shift came and Jonas was leading by a mile, and on the second beat a big left shift came and Giles and myself came back to the top. In the last race there was again a big shift on the right and the second beat was mixed for me and I finished eighth. I am happy with the day."
"I am leading by five points, but tomorrow will be tricky sailing inside the harbour, and will be very interesting. I have been leading since day 1 and it's been a little bit tense. It's the Olympic trials for me and so far so good. I cannot complain and tomorrow and the day after for the medal race will be an epic battle."
Results after 8 races:
1 NED Pieter-Jan Postma 24
2 FIN Tapio Nirkko 29
3 GBR Giles Scott 30
4 FRA Jonathan Lobert 38
5 NZL Josh Junior 43
6 SWE Max Salminen 46
7 DEN Jonas Hogh-Christensen 55
8 NOR Anders Pedersen 57
9 HUN Zsombor Berecz 65
10 AUS Jake Lilley 66
Report and photos by Robert Deaves
Finn Class photos: www.flickr.com/finnclassphotos
Results: http://www.sailing.org/olympics/rio2016/results/index.php
Latest Race Reports…
The Finn fleets have a very active racing programme at all levels from Olympic level though to the equally keenly fought Classic fleet. To read the latest regatta reports click the images below.