Only one race was possible on the second day for Finns at the Aquece Rio 2015 Test Event with the win going to Tapio Nirkko (FIN). Pieter-Jan Postma (NED) maintains the overall lead, while Nirkko moves up to second and Jonathan Lobert (FRA) moves up to third.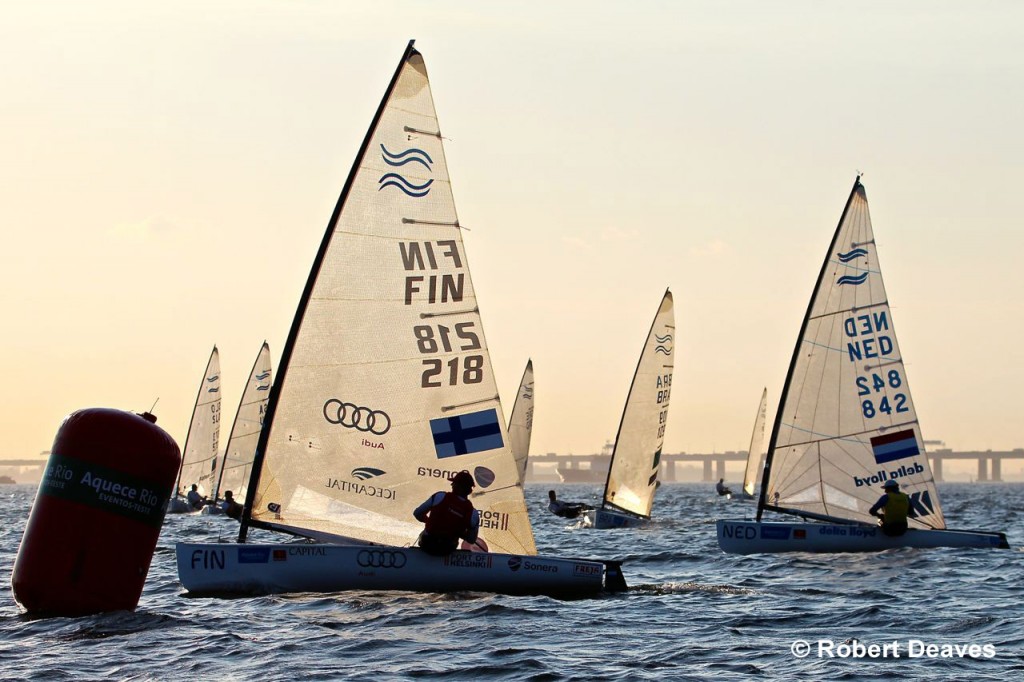 Monday in Rio didn't quite go as planned. The fleet was on the water around 11.30 to get out to the Copacabana course outside the harbour for a 13.00 start. However the wind hadn't shown up at the agreed time after a big night out in Rio, and the fleet wallowed on the swell until being sent all the way back inside Guanabara Bay to the Ponte course by the bridge, where they had already raced on Sunday. By the time the race started, only one race was possible before nightfall.
Tapio Nirkko made the best of it, rounding the first mark behind Caleb Paine (USA), with Pieter-Jan Postma not far behind. There was a bit of confusion though as many of the leaders mistakenly thought that Oscar flag had been flying for free pumping and starting giving it everything downwind. Unfortunately for some, Oscar was not flying and the jury soon swooped in to put matters right, penalising three boats including race leader Paine, World Champion Giles Scott (GBR) and Jorge Zarif (BRA). With Paine spinning and Scott forced to retire as it was his second penalty, this gave Nirkko some clear air and he sailed clear of the fleet. Postma moved up to second with Josh Junior (NZL) briefly in third, until Jonathan Lobert came through on the second upwind.
Nirkko said, "There was no wind outside and they made a good call to come into the bay. It was a good breeze on Ponte course so we had a solid race. I managed to get a clear lane right from the start and had good speed, with pretty safe tactics staying with the other guys and rounded second, There was some confusion about the free pumping and two guys around me got a flag and I got a little bit away from the fleet and then it was a pretty easy job to maintain the lead. It was similar to yesterday, but just later in the day, so the current and wind were a bit different."
Now in seventh overall, Vasilij Zbogar (SLO) commented on the Oscar flag confusion he said, "I hadn't seen the flag for free pumping but the guys started to pump, so I started to pump as well, and then the jury started to give penalties so I stopped. I think there was a bit of misunderstanding. Sometimes when you start you are so tired and have no time to look around for flags."
With the sun setting over the picturesque hinterland, it was all over for the day. The schedule for Tuesday has been changed slightly with three races now planned on the Copacabana course instead of one of the inside courses. With the forecast similar to Monday, it is looking like another long day in Rio.
Result after 3 races:
1 NED Pieter-Jan Postma 3
2 FIN Tapio Nirkko 6
3 FRA Jonathan Lobert 6
4 NOR Anders Pedersen 7
5 SWE Max Salminen 7
6 NZL Josh Junior 11
7 SLO Vasilij Zbogar 13
8 GBR Giles Scott 13
9 HUN Zsombor Berecz 15
10 DEN Jonas Hogh-Christensen 16
Report by Robert Deaves
Useful links
Finn Class photos: www.flickr.com/finnclassphotos
Results: http://www.sailing.org/olympics/rio2016/results/index.php
Latest Race Reports…
The Finn fleets have a very active racing programme at all levels from Olympic level though to the equally keenly fought Classic fleet. To read the latest regatta reports click the images below.