Over the final weekend of September nineteen Finns descended on Mudeford Quay for the penultimate event in the Travellers Trophy series, hosted by Highcliffe Sailing Club.
The forecasts for Saturday looked fairly bleak, with light winds and mist putting off a few, but after a spot of rain during rigging the fleet were launched and headed out into Christchurch bay to be met by 6-7 knots from the South.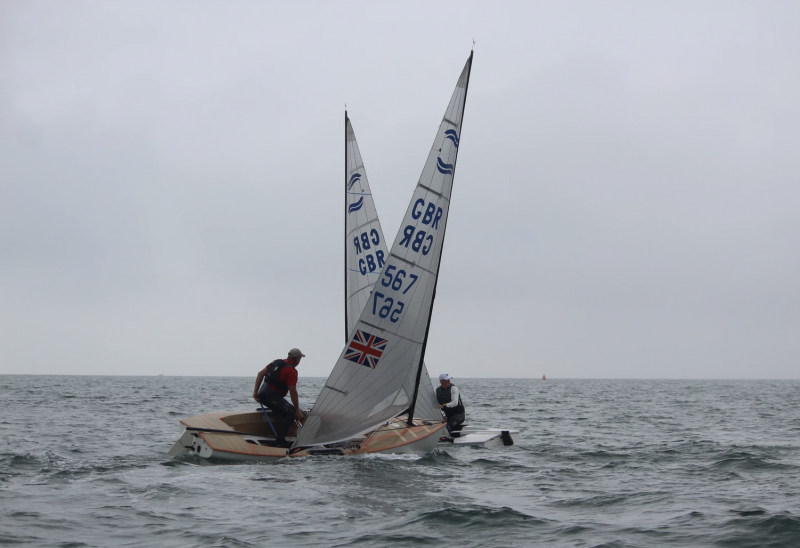 The efficient race team led by PRO Paul Butler set a simple 2 lap windward-leeward course and race 1 got away first time with only a couple of OCS boats having to exonerate themselves. Martin Hughes showed exceptional speed in the light airs, heading to the right of the beat and was not seen again in that race, winning by a country mile. Second place went to Alex Atkins who quietly kept out of trouble, sailed fast and was fairly untroubled throughout. Keiron Holt snuck through to claim third.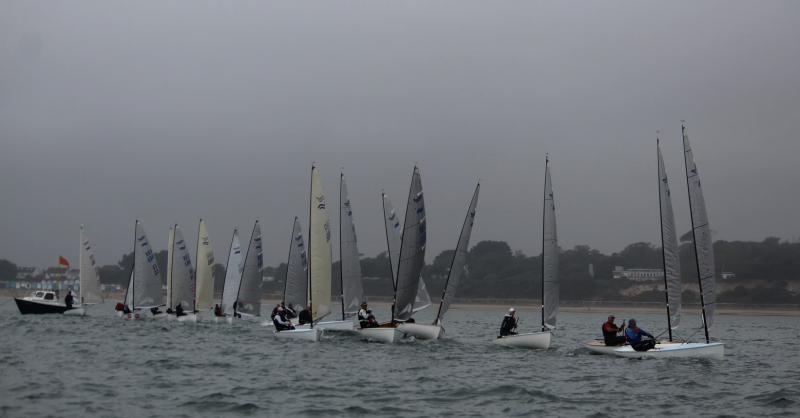 The second race didn't get away quite so cleanly, which is fairly inevitable in the competitive Finn class and after a second attempt, Martin and Alex found themselves fighting it out at the front again, leaving the fleet to fight for third! Mike De Courcy (Mengeham Rythe SC) looked to have secured it, only to find himself being OCS at the start leaving Fred Van Arkel (proving that his race win in the light airs nationals was no fluke) showing impressive speed to take third from James Downer. The wind dropped away on the final run and with that the hopes of getting in a third race.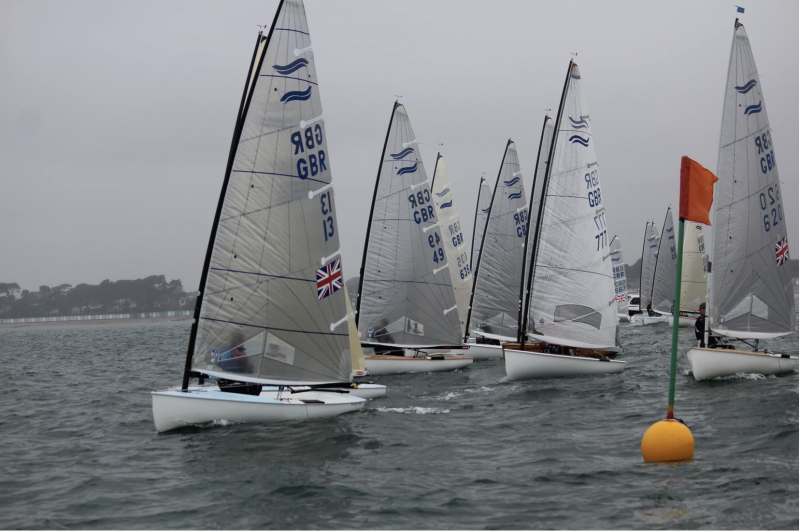 Sunday dawned with more wind forecast and some sunshine to go with it. But race 3 felt light, much like the day before. Martin Hughes did his series scores no favours by having a lie in and arriving too late to make the start, along with the "super legend" Howard Sellars (who was reliant on a lift from Martin having not been able to fuel his Jaguar!). A similar strategy to the previous day prevailed and the fleet worked the right of the course with the fleets friendly Russian, Roman Khodykin, sailing magnificently to lead and hold off the chasing pack of local legend (Literally) Ray New and double Etchells world champ Paul Blowers, who is back after a 4 year break from the class and clearly hasn't lost too much speed.
Race five and Martin was back! The wind was still light and he was still fast in the lighter conditions, after a duel with James Downer up the first beat, James just managed to beat him round the mark, and with a one-sided run he wasn't able to get past him, James just covering to take the win. Another 3rd from Paul saw him and James, both from Gurnard SC climb the series leaderboard into contention. A special mention must go to Peter Blick finishing the race in 8th in his 1957 Classic Finn with beautiful sepele decks, restored by the much missed Tony Lock.
For race 5, the breeze was in and Christchurch Bay was at its finest! A south westerly force four and big waves are why most people choose to come to venues like this and it's the perfect showcase for the Finn class. James Downer lead from start to finish with pumping flag Oscar now displayed. Mike De Courcy was by far the quickest upwind in his recently purchased boat from Giles Scott and did enough for second ahead of Paul Blowers in third, having been reminded how much fun Finns are in these conditions.
The final race was now set to be a showdown between Martin and James for the overall win. Mike De Courcy led the first lap with a charging James Downer and John Mackie who both eventually overhauled Mike to take first and second with Martin Hughes putting everything in to pipping Mike to take third.
So overall James and Martin ended tied on points with the decider being James' 3 wins for countback. Martin won the Great Grand Master category and second overall. Consistency paid for Alex Atkins of Christchurch SC who sailed a great regatta to finish third (and first Master) ahead of Paul Blowers (4th overall and 1st Grand Master) and local, Simon Percival rounding off the top five.
Highcliffe Sailing club and its volunteers put on a fantastic weekends sailing for the class and thanks must go to all of those that sat in RIBs, set courses, pulled boats up slipways, baked (exceptional) cake and served sandwiches and tea to a very appreciative Finn class – thank you all for a great weekend racing.
Report By James Downer
Photos by Sarah Desjonqueres
​
Latest Race Reports…
The Finn fleets have a very active racing programme at all levels from Olympic level though to the equally keenly fought Classic fleet. To read the latest regatta reports click the images below.