Fifteen boats entered over the two days and met with contrasting conditions on each. Saturday brought a cold brisk northerly, which was both gusty and shifty, whilst Sunday saw sun and a slowly building southerly augmented by sea-breeze and plenty of cloud-driven down-draft.
Boats came from Chew Valley, Weymouth, Warsash, Lymington, Mengeham as well as Bosham. Of note were three venerable Fairey hulls, which turned in very respectable performances on the harbour courses. With low neaps constraining race officer Mike Brooke's choices, sausage courses were sailed up two fingers of Chichester harbour on Saturday, whilst on Sunday there were two races with the last one allowing a long couple of reaches across the harbour entrance to utilise three fingers of the harbour: the channels of Emsworth, Thorney and Chichester.
The first legs to an inflatable mark were invariably short sprints allowing for lots of action round the windward mark and thereafter to a succession of fixed harbour marks. Race durations varied from 35 minutes to over an hour. Five races were completed (three on Saturday and two on Sunday, allowing for one discard. The patchy, shifty conditions on Saturday paid handsomely to those who picked the right side and/or saw the shifts, whilst Sunday rewarded boat speed and short tacking abilities to dodge the gentle tide.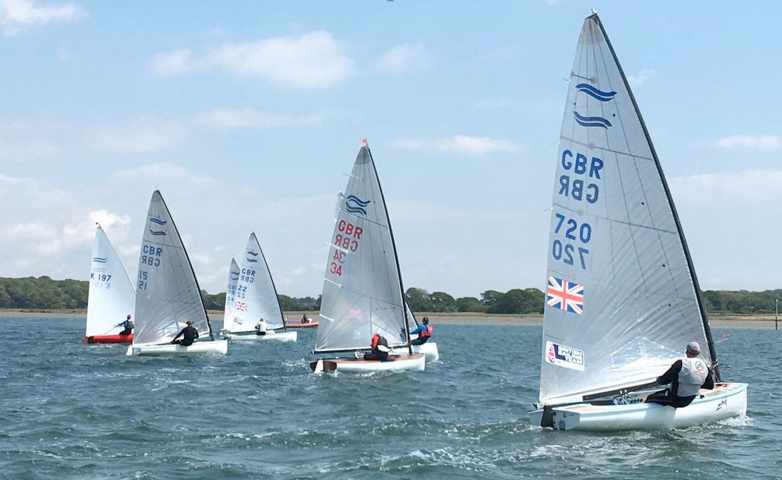 Nonetheless consistent performance was conspicuous at the front of the fleet with Julian Smith and Fergus Allan winning two bullets and two seconds each with only one point difference overall and the Bosham Plate being awarded to Julian (also last year's winner). Second and third places (Fergus and Mike de Courcy) was only decided on countback/last race result. So overall we saw some very consistent results in very varied conditions amongst the worthy winners. Best classic boat was awarded to Peter Vinton (K197) in overall 8th place and who had struggled on the second day with a highly mobile mast deck fitting.
Teas were served on arrival back ashore in the Clubhouse on Bosham Quay on both days and enjoyed on the sunny terrace. A Finn Din was available at the club early on Saturday evening.
In addition to the Bosham Plate and glassware for the winners already mentioned, hoodies and spray tops were awarded by courtesy of sponsors Suntouched Sailboats (Sue & Rodney Cobb).
Results:
Ist Julian Smith 7.0
2nd Fergus Allen 8.0
3rd Mike de Courcy 8.0
Full results here:
Photo gallery here
Report by Dick Pratt