The competition in Santander has been ferocious with Olympic medallists, World Champions and many of the world's leading sailors aiming to reach Saturday's live Medal Races and to be in with a chance at claiming a medal.
Thursday's racing saw exceptional sailing conditions across all the racing areas. An 11-16 knot breeze, gusting 25 knots, tested the sailors. Ben Cornish has taken the lead from team mate Ed Wright who now sits in 3rd, just 3 points off Silver, ahead of Saturday's medal race.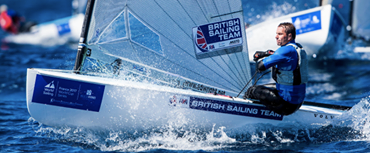 U 23 sailor Henry Wetherell should also make the medal race, and is currently 5th.
See full results here:
Latest Race Reports…
The Finn fleets have a very active racing programme at all levels from Olympic level though to the equally keenly fought Classic fleet. To read the latest regatta reports click the images below.