A History of Fairey Finns
Nearly all the early British Finns were made by Fairey and many hulls, kits or finished boats were exported to other countries. A very good history of Fairey Marine can be found at this link: www.yachtsandyachting.com/news/233123/Hot-Wood
Many of the earliest Fairey Finns went by another name, being finished by Tormentor at Warsash and by Woottens on the Thames, to avoid Charles Currey (then the boss at Fairey Marine)  being disqualified from participation in the Olympics, but whoever was listed as the builder, nearly all British Finns built before 1962 were Fairey hulls. Fairey Finns were exported in large numbers too, so still exist in many countries around the world.
All Fairey Finns were made with agba veneers glued over a mould. Each veneer was cut to shape against a pattern with several boat sets of veneers being cut out at once. One set at a time was placed in the correct position on the mould and glue pasted on the completed layer. Once the final layer was positioned a rubber bag was clamped over the mould and then the mould was placed in an autoclave which was then pressurised with steam to set the glue.
Finns were usually finished by Fairey with flat decks and buoyancy bags (as K17 and 18). In 1959 a rule change allowed rounded side tanks and so Fairey started making some Finns with hot moulded side tanks, of 3 thinner veneers of agba laid diagonally, as for K129 and K197. However these side tanks were problematic, as they tended to pull in the sides and make the boat too narrow, so not many were finished in this way.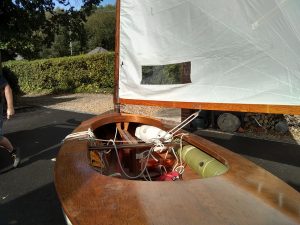 Fairey sold finished boats, kits and also bare hulls so many Finns were finished by amateurs and other boatbuilders, so layouts of decks and tanks do vary. All early boats were built with 3 veneers throughout the hull, to comply with the class rules which required an even skin thickness throughout. This rule had to be changed following the introduction of glass fibre Finns in 1960 so some later Finns were built with 4 veneers in the bottom and 3 in the topsides. I used to own K155 which had been built this way in 1963 built this way. K454, a re-registered Fairey is also built like this.
Fairey Finns were produced between 1951 and about 1964, but several were registered later. This could be because some production still continued but it's known that many boats which didn't measure or hulls which were initially unsold were finished and measured later. To add confusion, boats which were restored in Britain and remeasured were given a new number and sometimes even attributed to the new owner as the builder, so for example, K314 is registered as having been built in 1968 by Fairey/Aveston, with J Aveston as the owner, K364 was registered in 1969 but is a reregistered boat, K434 was registered in 1978 after remeasurement as was K454.
While many wooden Finns are delaminating due to deterioration of the glues used to manufacture them, Fairey Finns built much earlier are lasting very well. They are not difficult to restore or repair either. Robbins Timber in Bristol usually hold stocks of Agba veneer and the CVRDA website has plenty of advice on rebuilding the diagonal veneers. (www.cvrda.org/community and search for fairey)
As with most other wooden Finns, those without tanks are generally faster than those with, as they are less stiff, but the tanked boats are easier to sail after a capsize. To use a carbon rig both the deck ring and the step have to be changed to allow the mast to be moved further forward but all Fairey Finns can be competitive in classic fleets and give modern boats an occasional scare, particularly in flat water.
If you have a story of a Classic Finn restoration or want advice on a Classic Finn project, post a message on the Classic Finn section of the Forum, or contact Peter Vinton via the link below.
Peter Vinton – BFA Classic Finn Representative.