A Jeremy Rodgers Finn restoration – Peter Vinton reports on Martin Hughes' impressive classic Finn restoration project.
When I first started racing Finns in Essex in the 1970s the front runners at the open meetings were Martin Scarth, Ian Thain and John Boyce, all sailing beautiful wooden Finns.
Fast forward more than 40 years and Martin Hughes begins restoring a rather special Finn –  a Rogers Finn, sail number K192, originally built for TJ Copeland, but later belonging to Martin Scarth.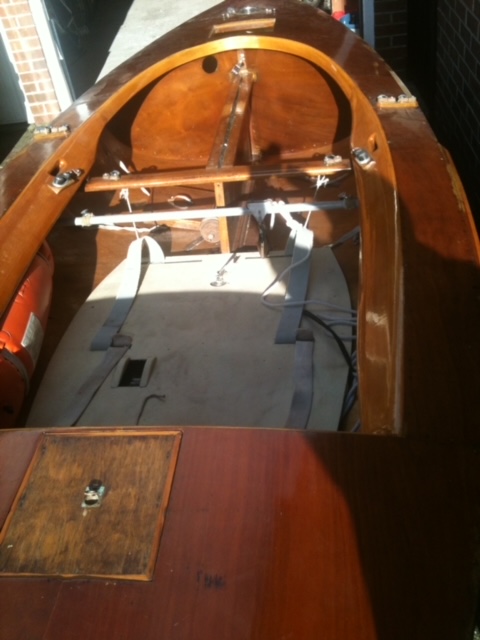 In the UK almost all Finns up to the late 50s had been built by Fairey Marine. They were strong and reliable and many still survive, then when GRP was allowed Pearson started building GRP Finns, which have also survived well.  However, being a competitive class there was always a desire to build a faster Finn and Jeremy Rogers in Lymington, a well-known fast dinghy builder (later to become much more famous for building Contessa yachts) built some wooden cold moulded Finns during the late 1950s.  Richard Creagh-Osborne, the UK measurer oversaw the construction but did not like what he saw and made sure the rules prevented the boats from being measured.  Following a subsequent rule change, in the early 1960s, it became possible to measure the boats in class and the first was registered to Richard Hart as K131 in 1962.  However, these boats all had to carry an extra 20 pounds (9kg) of lead in 2 groups, one in the bow and one in the stern which hints at the differences between these Finns and others of the time.  Richard remembers his Rogers Finn as being 'fast but fragile'.  9
 or 10 Rogers Finns are entered in the UK Finn records, all going to top helmsmen and they were very sought-after boats.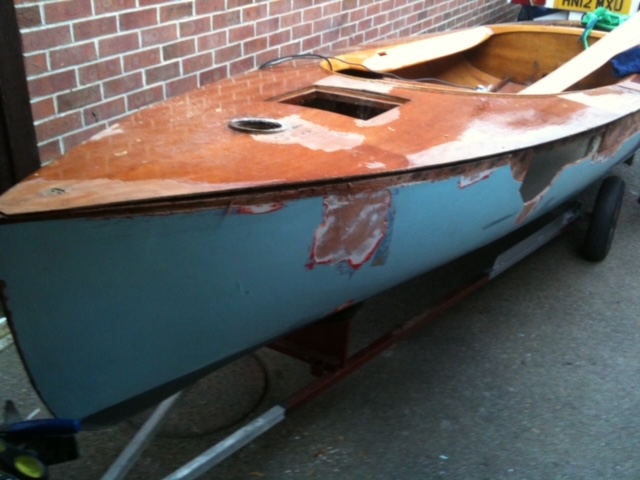 When Martin bought K192, Mainstream, it was in a poor state with several holes caused by the boat being left bow down on her side and full of water.  Martin repaired these with veneers and replaced the original decks but managed to retain the sycamore cockpit coaming which came with the boat.  He's fitted a modern mast gate so that the mast position can be moved forward to suit modern rigs, but sadly, in my view (!) not restored the striking blue hull with a red waterline and white underwater surface that I remember several Rogers Finns being finished in.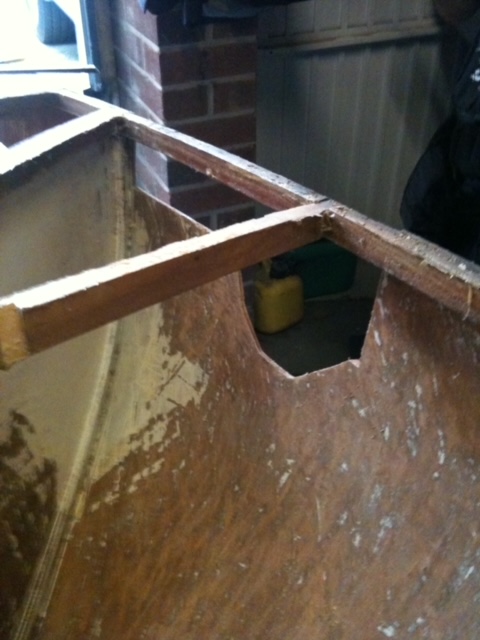 Mainstream had her first modern outing at the Bosham Finn festival this summer (2022), racing in a 23-boat fleet and using an Alloy Needlespar mast with a Dacron Musto sail.  Martin led the fleet on several occasions and recorded top 5 finishes in all his races to end up 4th overall in a fleet consisting of 20 modern Devoti Finns.  Martin also sailed the classic Finn on the first day of Chichester Harbour Race week this year, finishing third out of 28 boats in the first race and recently came second in the Bursledon & Swanick regatta in the Fast Handicap fleet. So there's no doubt Mainstream is still fast, but is she fragile? Time will tell but I haven't heard of another Rogers Finn still in existence. If you know of one please let me know!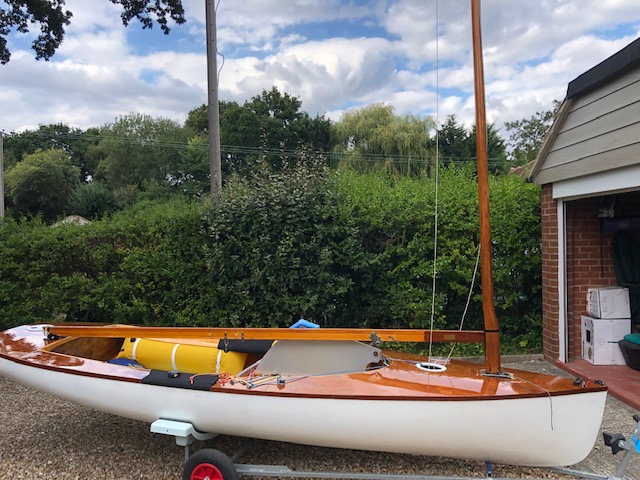 Peter Vinton, British Finn Classics representative.
More Classic Finns discovered.
British Finn K17 Allegretto has recently re-emerged after being kept in a barn for around 40 years! This Finn was originally bought by Chris Heywood with his brother and sailed in the 1956 Olympic trials after which she was little used. Chris was a good friend of Charles Curry and spent many summers being mentored, camping in Charles' garden and sailing in Chichester Harbour. Allegretto was sailed a few times in the 1990's on Kielder Water by his daughter Viola and her Uncle but subsequently has spent the rest of the time in a barn in Scotland, until it was recently decided it was time to find her a new home.
K17 was one of a batch of 10 Finns that were commissioned by Tiny Mitchell for the 1956 Olympic Trials. The hulls were built by Fairey Marine and decked and finished by Wootens off Maidenhead. In the trials, Chris surprised many well-known dinghy racers by lying in second place after the first day and creditably finishing 5th OA in the event which was won by Richard Creagh-Osborne, but Chris then started sailing a Jollyboat and put Allegretto into storage.
Allegretto is probably unique in not having been modernised or updated since 1952 and so represents a rare insight into the early development of the Finn. She has no kicker and sports a wire halyard winch. The controls are very basic (mainsheet, traveller and centreboard up haul) and so sailing the boat, particularly in stronger winds must have been extremely difficult. British Finn Association Secretary Martin Hughes has brought her down to Warsash and is going to try sailing her pretty much as she is, which will be interesting to see!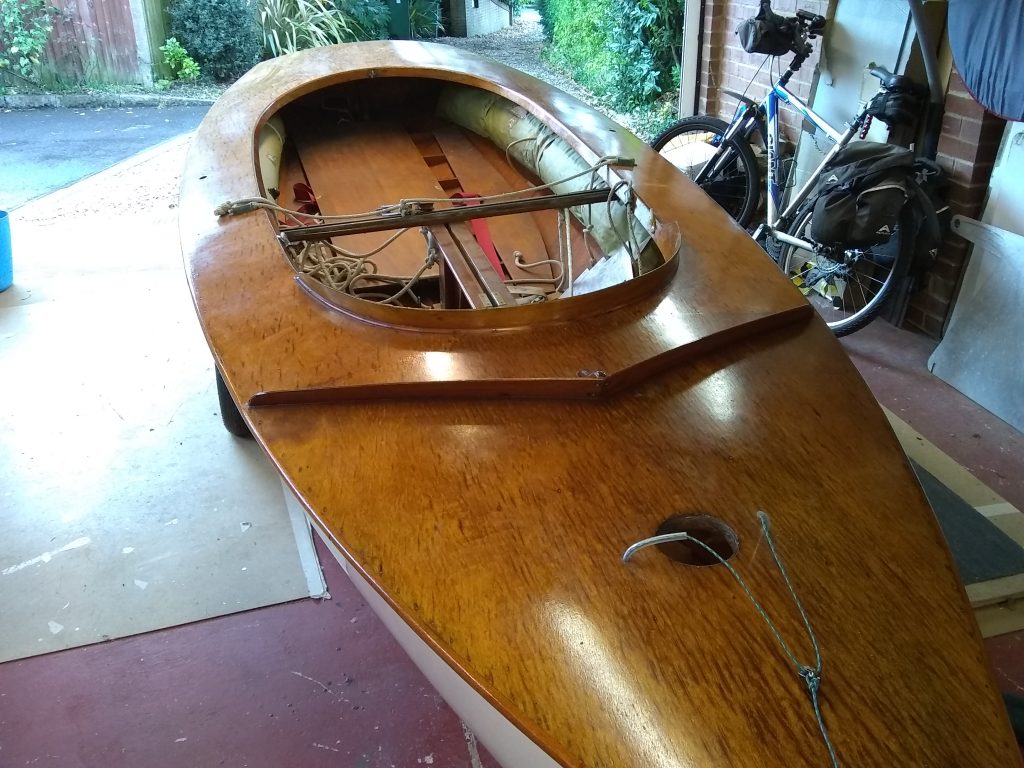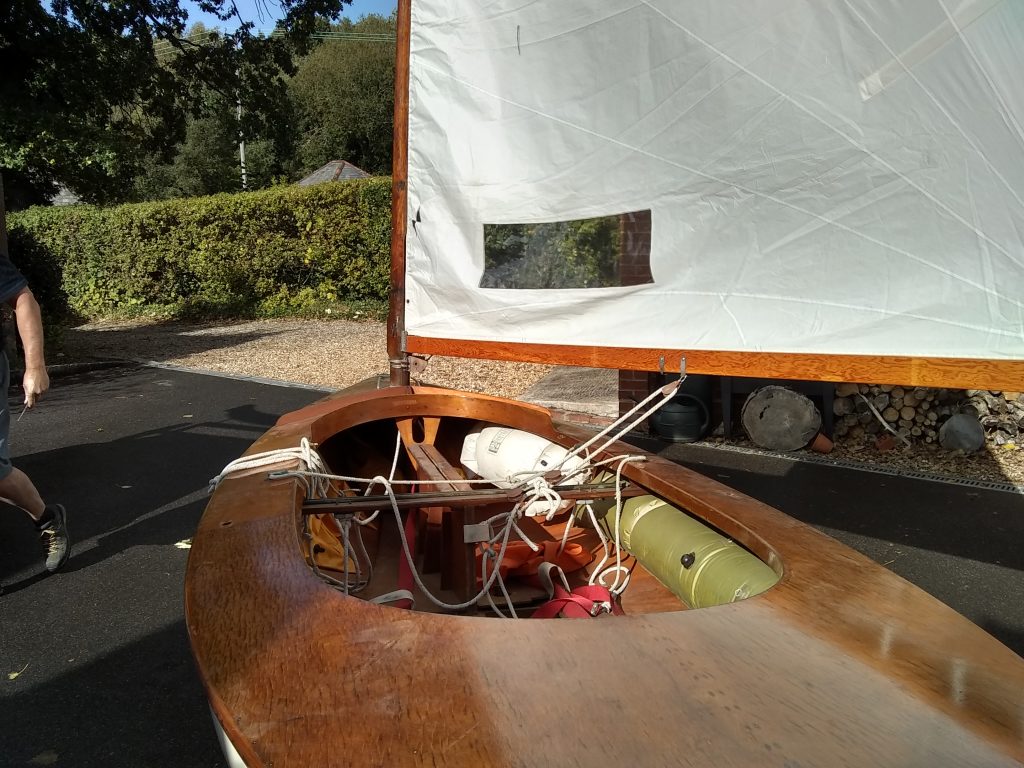 Then, having had one long lost Finn turn up, in August a familiar shaped boat appeared on eBay being advertised as a 'potential fishing dinghy'! A little bit of record checking showed her to be K19, Elfinn, a Fairey Finn that hadn't been known of since 1970. She is also in remarkable condition, with 2 wooden masts and what looks like the original sail, and again no modernised controls.  She also now has a new owner who is intending to restore her then sail her in original state of tune.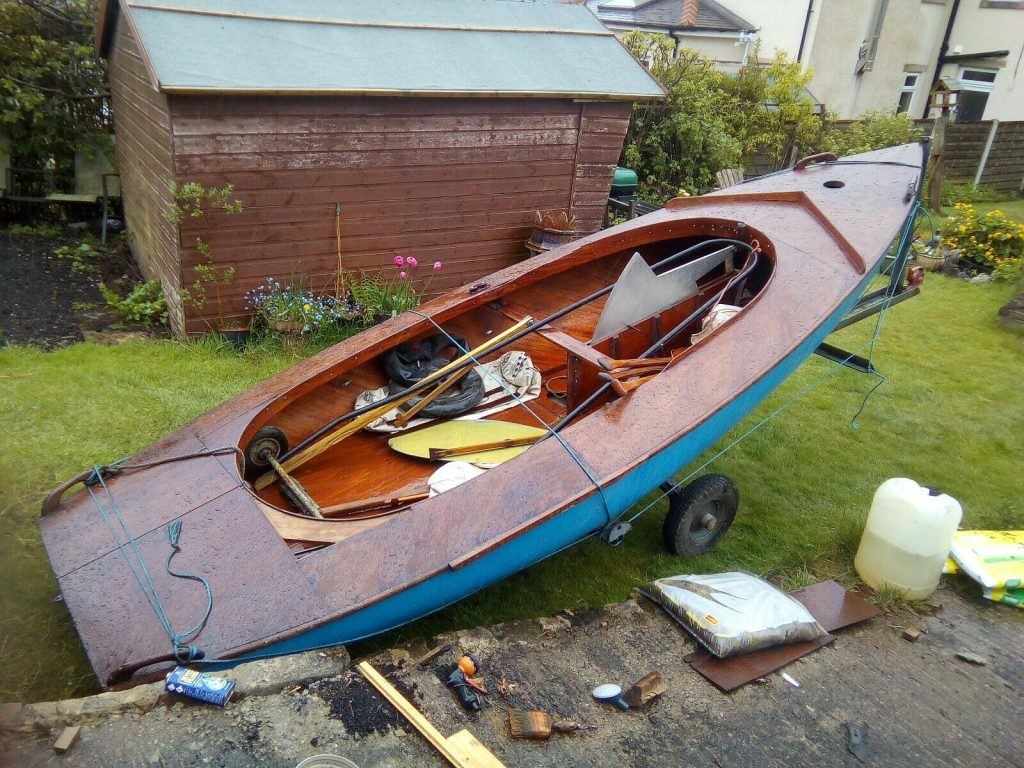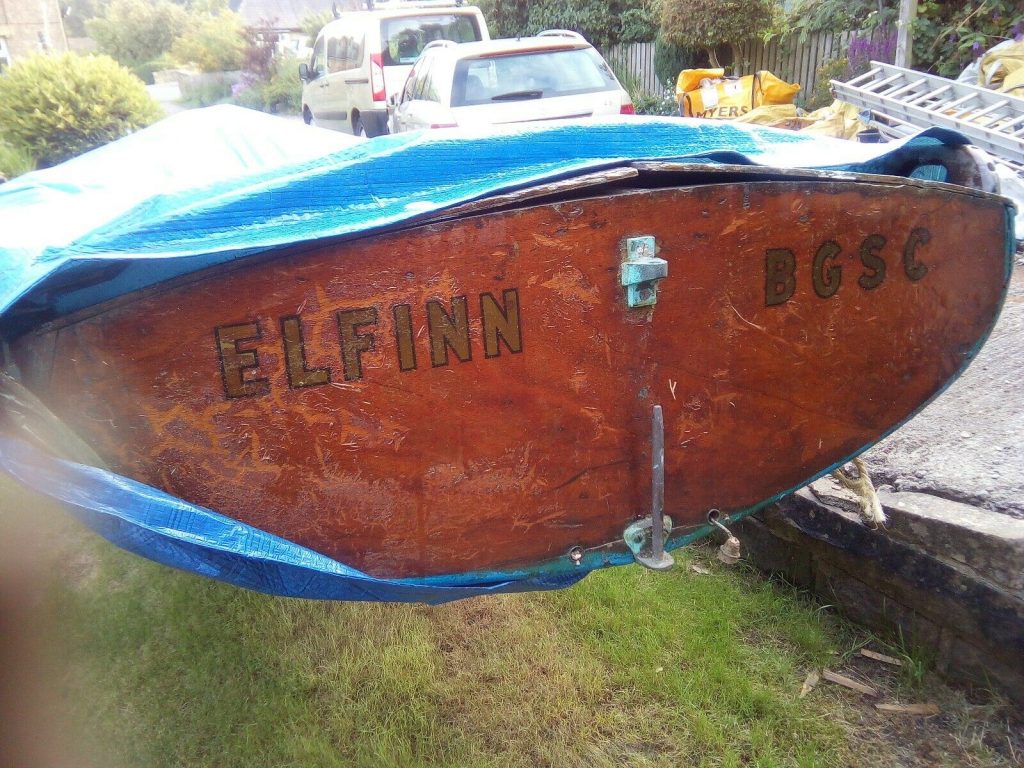 Many Classic Finns race in the Classic and Vintage Racing Dinghy Association (CVRDA) events where they are given a handicap appropriate to their age and condition, so Finns with older rigs which are uncompetitive in modern fleets can race on an even basis. The British Finn Association also make sure older Finns aren't left out. They run two classes for older Finns; Classic Finns which sail with traditional rigs and Classics with Carbon, which sail with a modern rig on a pre – 1985 boat.  This has been introduced because the older masts, and the Dacron sails to suit them, are becoming scarcer whereas there is a plentiful supply of modern secondhand sails and older carbon masts at reasonable prices.
If you want to know how to rig a Classic with an aluminium or wooden mast, check out the original rigging guide here. Page two of the classic rigging guide can be found here.
If you have a story of a Classic Finn restoration or want advice on a Classic Finn project, post a message on the Classic Finn section of the Forum, or contact Peter Vinton via the link below.
Download the Finn hull lines plan here, so you can build yourself a scale model Finn, or Contact Peter Vinton if you wish to purchase the full digital files to build a new wooden Finn.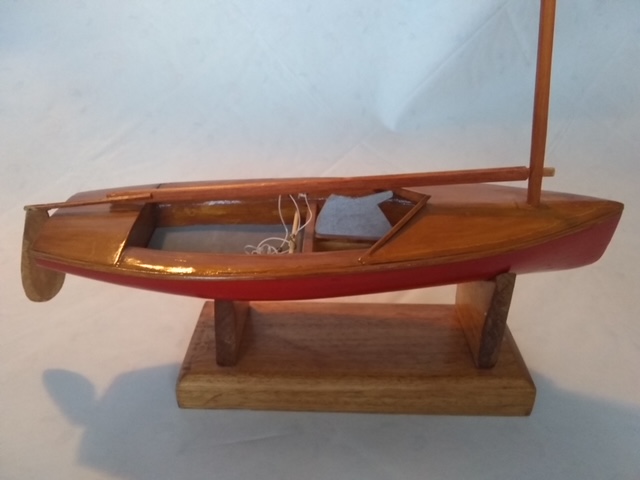 Peter built the above model by enlarging the plans to 375mm long to use them as templates to make the model at 1:12 scale. The hull and tanks are planked in balsa strips.
Peter Vinton – BFA Classic Finn Representative.